18 August 2020
Eye of the Tiger
3 races and 3 victories. This year has for sure been different…
Like everyone, last winter I was preparing for many races this year, new races in different countries, favorite races in my country, camps with the Arduua team … The winter was really good in terms of training. I worked a lot on speed, strength, nutrition … Everything that sports life brings. I noticed my progress compared to last year.
In March, we were all struck by a situation that we all know everything about, so there is no need for me to explain it to you. In our country, it was forbidden to train in many places where we normally trained-parks, trim tracks in the woods, athletics track. There was a difficult period where we had to change our training plans and take care of ourselves and our health. It was not easy, but we did as much as we could. The races started to unfold slowly, one by one … We all know that and it was hard for all of us because of that. But as people say, the show must go on ,so we continue to run. J
Fortunately, I managed to participate in 3 races this year so far. One was in Serbia and two in Bosnia and Herzegovina.
Tara ultra trail was July 5th,in Serbia. I participated in the 25k race and I have to tell you that I was very happy. When the race started, I felt very strong and ready. After the first ascent, I noticed my progress compared to the previous year. As the race went on I had a great time and thought about how many results the preparations had. I arrived first in the women's competition, but also 3rd overall which was great for me.
Jahorina Ultra trail was on July 25 in Bosnia and Herzegovina. This race was organized by the Olympic Center Jahorina. There were a lot of competitors, fast runners, and positive vibes. I participated in a 23k and 1100 D + race. at the beginning there was a 3k climb along the ski slope. It was a strong start, and it went really well for me. Then I saw my progress even more. I focused and mastered the ascent. I was in the first 5 competitors all the time, which was very good for me, my thoughts and the continuation of the race. The second part of the track also had a strong and long climb, just before the end of the race, and it was already a little harder than the beginning, I felt tired. But still, I saw that I could go quite well with fatigue. I ended up as the first woman.
The Sutjeska trail was on August 1 in Bosnia and Herzegovina as well. The sweetest for the end as they say :D. This race was 28k with almost 1700 D +. If someone had told me I wouldn't have believed it would be so hard. I had a race only 7 days before. But ok, I didn't feel tired that day. Although I later realized that it still has an impact when you do 2 races in seven days. This race was on very demanding terrain. The start was an ascent that lasted 6k. I overcame that ascent quite well. After that there were many ascents and descents on difficult terrain. There were a lot of rocks, technically demanding parts, inconvenient for fast runs. With all that it was very hot. In the beginning I followed two male runners as much as I could, and later I ran most of the track alone. I have no problem going alone, but in that race … I wished that at least at some point there was someone next to me :).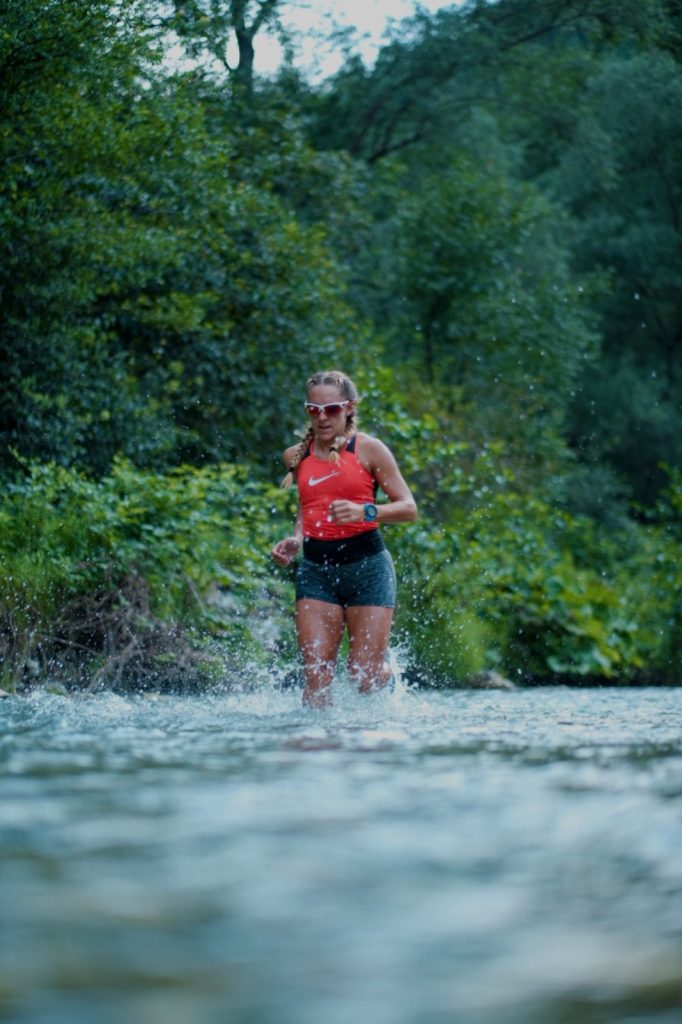 Everything was ok until it went downhill through the forest. You would say, downhill through the forest is great, but … not always. 3-4k was interspersed with large fallen trees. I slow down and skip them. Every 200-300 meters I had to slow down and jump over the trees. More precisely, I climb the tree and cross to the other side. After that, I had an ascent again that made me tired, I must admit. But, again a difficult descent … It was very steep, the leaves fell, and there were a lot of stones under the leaves.
I hit the rocks so hard because I couldn't see it, that I started to wonder if there was an end to this forest. Of course, the descent was long … When I descended, and the flat part came, I couldn't really accelerate as much as I wanted. were tired of ascents and stressed by such descents. Fatigue was evident, but it was only a few kilometers to the end. I concentrated on the track and maintaining speed until the end of the race. I went out of the woods to the sun, which was incredibly warm. It's like someone hit me in the head. But I saw the goal 800m away from me and honestly I couldn't wait to go through the goal and sit down: D! Of course, the goal was on a hill, near a monument very important in the history of the balkans. And guess what to the monument ?! Stairs, so many stairs :D.
At the bottom of the stairs I laughed and thought of the winner's trail and Rocky Balboa running up the stairs with the song Eye of the Tiger . The stairs have passed, I have reached the finish line, uhuuuuuu! Sit down Snezana,I told to myself J!First woman,tired woman…
I had the impression that I was running a slow track, because it looked like that to me … But I saw that the first man arrived 20 minutes before me, the second and third about 10 minutes. That means I didn't go as slow as I thought, it's just for me it looked like that because it was hard. Nature is really beautiful! But beautiful! But for a race very difficult and hard. What's ok, it has to be sometimes less difficult and sometimes much harder. That makes us stronger and more enduring.
3 races, 3 victories. I am grateful to my team and preparations. J
Keep running and be strong!
/Snezana Djuric, Arduua Frontrunner
Like and share this blog post