25 January 2022
Functional Training for Runners with TRX
Whether you're an experienced Ultra-trail runner, or you are a beginner, TRX Training is a great cross training tool to help you improve your overall strength, running performance and recovery efficiency.
Strength Training with TRX is particularly beneficial for runners, as it can help reduce the risk of injury in endurance athletes by correcting imbalances in your left and right side, which can lead to in an inefficient stride and injury over time.
Why TRX?
Functional & Inspirational:
It takes you 1 minute to hang it anywhere before training and also with the possibility of doing it in the same natural environment (clinging to a tree), which is always a plus of energy for those of us who like to breathe fresh air while training. Mind-Muscle-Nature connection!!!
A great Strength tool:
With the TRX we work especially, in any exercise, the centre of the runner's body (CORE + glutes), a fundamental musculature that gives us support and stability for the running, especially in the mountains where we find continuous changes of pacings and hills. The strength for trail running comes from the centre of the body!!!!
Injury prevention & overcoming muscle imbalances:
In addition to overcoming muscle imbalances through unilateral training, TRX can help to improve mobility in the hips and ankles and help build strength in your legs while working your entire body to improve your overall endurance, core strength, mobility and running stability.
Unilateral exercises are single-leg or single-arm movements. The primary benefit of including unilateral exercises in your training programs is that the exerciser is using both sides of the body equally. Doing so helps you to avoid overtraining or overusing the dominant side, helps to isolate and correct muscle imbalances, improves balance, utilizes core muscles, aids in injury prevention, and facilitates rehabilitation.
Versatile:
It is not only good for working on the strength of any part of the body but also is a great tool to stretch and relax at the end of a workout. By working most of the exercises with at least 2 supports, we activate complete muscle chains from the grip to the foot, strengthening the whole body.
Adaptable:
you can make any exercise easier, more difficult or adapt it to the level of fitness and strength of each person at any time. Varying supports, inclination…
These are some of my reasons why TRX is always in my backpack!!
Try it for yourself and watch your performance soar!
Below we introduce some TRX inspiration + 3 levels of TRX Workouts designed by Arduua Coach Fernando, to help build a strong core, improve posture, mobility and stability in runners. 
These TRX exercises also provide an excellent way to recognize, improve and overcome imbalances, so you can do what you love, longer and more pain free.
TRX Inspiration
TRX Suspension Training general 1
TRX Suspension Training general 2
TRX Suspension Training general 3
Get the equipment
In the Arduua Webshop you can get the Arduua TRX Suspension Trainer and other types of training equipment for the mobile gym.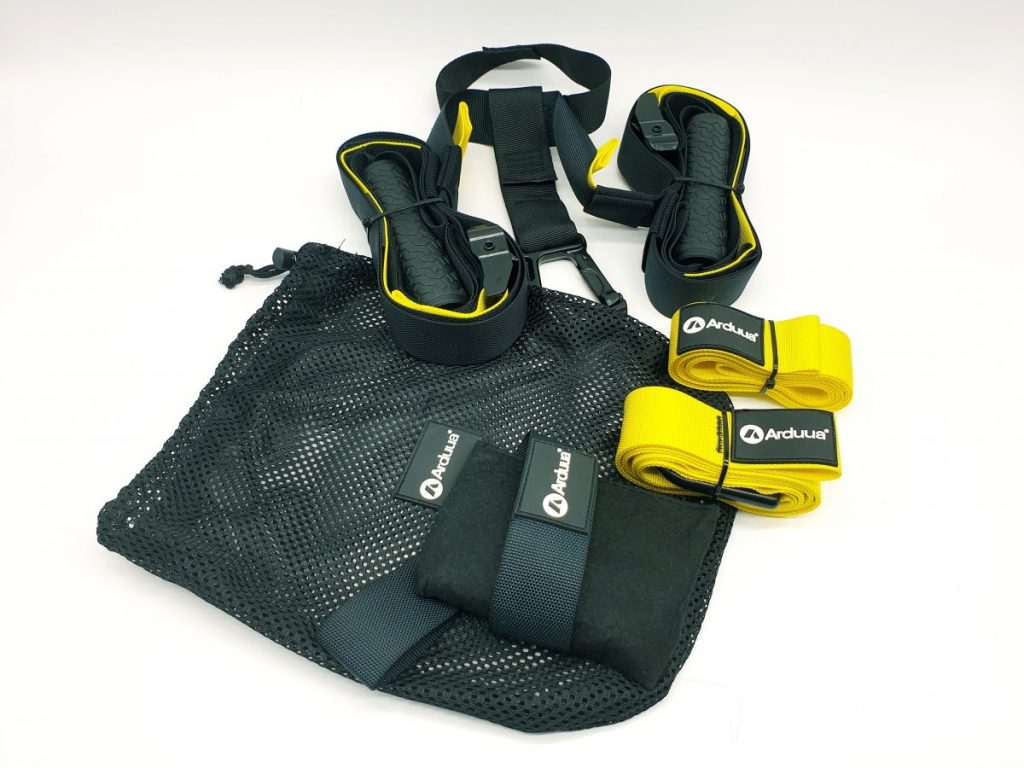 Get help with your training
In the Arduua Online Coaching we will help you with your training, with Personal Coaching specialized in Skyrunning, Trail and Ultra-trail!
For any questions please contact Katinka Nyberg, katinka.nyberg@arduua.com.
Good luck with your training!
/Katinka, Arduua Founder
Like and share this blog post