19 October 2020
Everything you achieve in life that makes you proud always has a certain struggle connected to it
Wouter Noerens is a person who loves challenges and puts in a lot of work and effort to achieve his goals. He entered the world of Skyrunning with a friend and fell in love with this sport.
This is his story …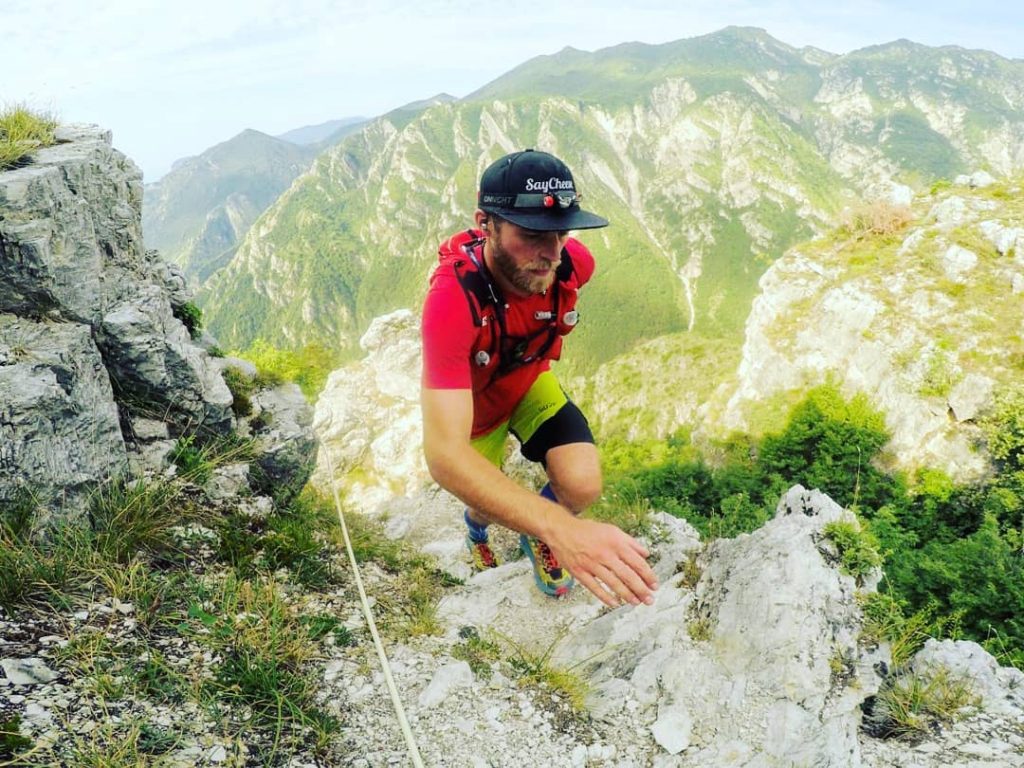 Who is Wouter Noerens?
A 33 year-old Belgian who only recently discovered skyrunning thanks to a 'weird' friend, has found his approach of "believe in something and just make it work" serves him just as well in skyrunning as it has in business. Embracing the struggle, enjoying the adventure and profiting from the opportunity for self-improvement are what motivates Wouter Noerens to keep searching for new trails.
Can you describe yourself with two sentences?
I'm a passionate and energetic person. I'm always up for a challenge or an adventure that pushes my boundaries.
What is most important for you in life?
Learning, to me, is the most important thing in all aspects of life. This is both at home with the family, as an entrepreneur, as an athlete, as a friend. We're always experiencing new things. The more we learn from every experience, both positive and negative, the more we can apply this knowledge in the future to become better versions of ourselves. If we can get a little bit better everyday this can make a big change in the end!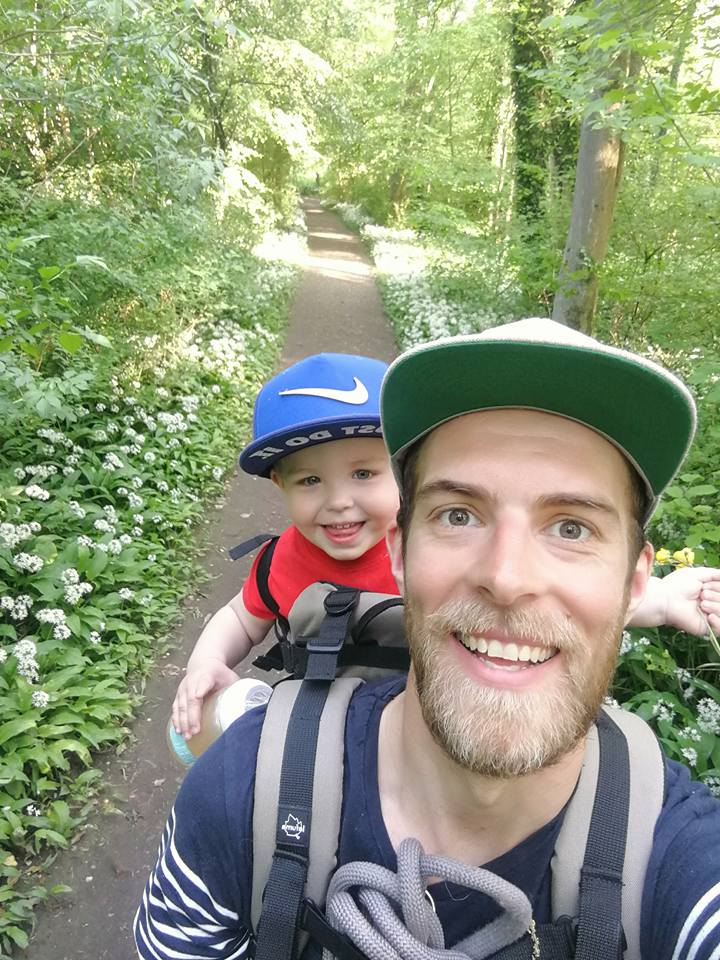 When did you start skyrunning?Why do you do it and what do you like the most about it?
I was triggered through a 'weird' friend who ran the Walsertrail and did some adventure races. He has kind of a "no bullshit" approach when it comes to looking at challenges many would consider to be very hard. He boils it down to:
your body can do much more than your mind makes you believe.
Having followed some of his adventures and vlogs, it got me really pumped to go out and experience it for myself. I went looking for a great "first" race and found the Matterhorn Ultraks to be ideal, both in distance, altitude and scenery. I had absolutely no experience running anything that resembled this so I prepared a lovely training run at Lake Garda in Italy. I took the course of the Limone Extreme Skyrace and pimped it a bit. Without knowing what would come I just set out and had the most amazing adventure. Here's the vlog for those who are interested 😉 https://www.youtube.com/watch?v=lGWovWtcDYs


The combination of being out in nature, enjoying the small things in life, understanding how relative it all is and, at the same time, pushing your limits, and getting to know yourself in a different way, really makes for a very fulfilling experience.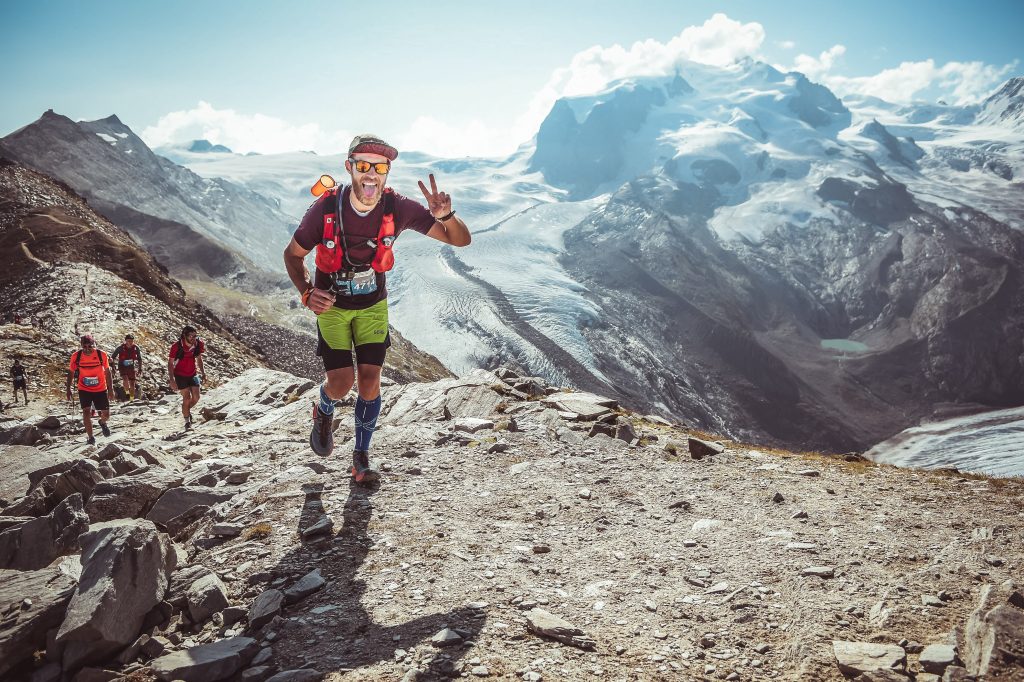 Running Achievements

Not that much so far, I've been bitten by the running bug about a year and a half ago. I've ran some amazing training and vacation runs on my own, just building routes on Garmin and Strava and just heading out on adventure, not really knowing what's ahead.
My only race achievement to date is the Matterhorn Ultraks Skyrace I ran last year, this was also my first ultra.
What are your personal strengths that took to this level of running?
As I said, I just started out so I think it's just the tip of the iceberg for now. The few longer experiences I've had so far have made me realize that everything you achieve in life that makes you proud always has a certain struggle connected to it. Knowing that I'm on an adventure or experience where I'll be proud of when I'm finished makes me put it all into perspective and helps me to embrace that struggle and also enjoy the moment. This allows me to push further.
Is Skyrunning a hobby or a profession?
Skyrunning/trailrunning in general is absolutely a hobby for me. But I really think that it's a very important one, as I learn so much from it. I actually think everyone could benefit from the insights you get from being out in nature on modern day adventures exploring new terrain and getting new insights into yourself.
Have you always had an active, outdoors lifestyle?
I've studied sports since I was 15 and went on to do a Master in Sports Sciences so I've been active for most of my life. I never would've thought I'd be interested in running, let alone long distance running. I was more into the action sports but due to some injuries my focus shifted and I found more joy in longer-lasting kicks.
What are the biggest personal challenges you have overcome to get you where you are today?
It's hard to pinpoint exactly which experiences formed me to who I am today. Surely one of the more important ones was starting a business in event photography without actually owning a camera, believing in something and just making it work. It really shows that you can achieve anything you want as long as you put in the effort and believe in yourself and your goal. People tend to overthink many things and end up being afraid to take any risks at all. I'm more of a "Just Do It" kind of person.
Do you usually push yourself outside your comfort zone? How does it feel at the time?
Hell yeah, it's where fun lives!
As I said before I learned to enjoy struggles, knowing that when I push through I'll be proud of myself. And I'd rather be proud of myself than be a quitter.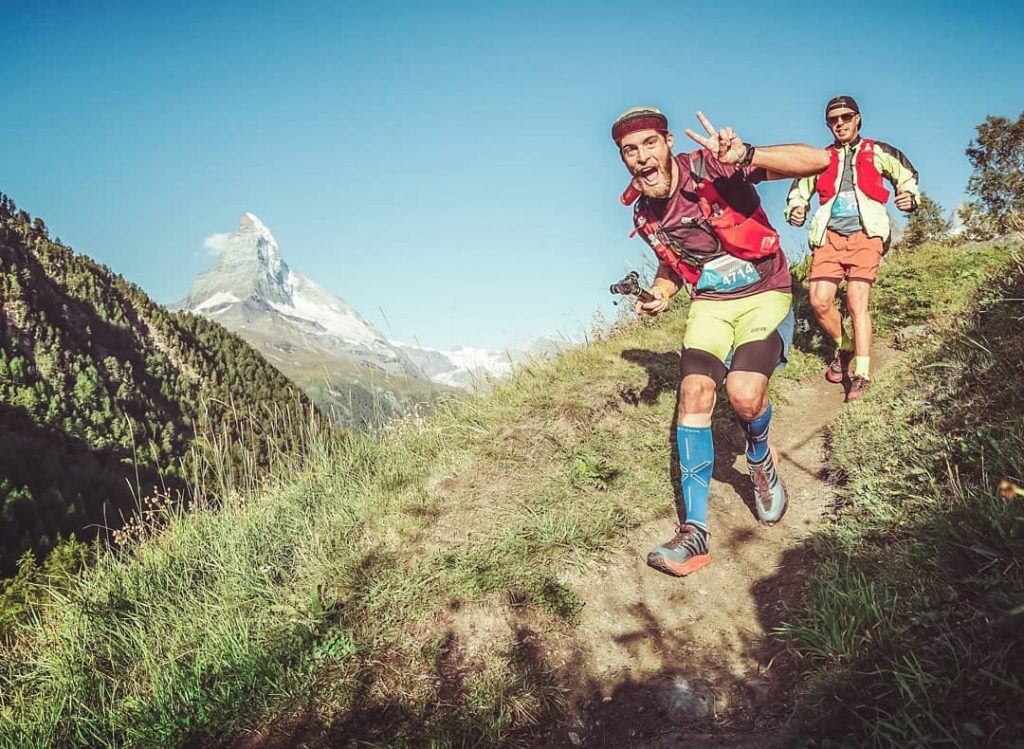 How did your race plans and goals look like for 2020/2021?
2020 is a weird year. After the Matterhorn Ultraks last year I got a knee injury that set back my running for a while. I've only been running this year since June but I'm enjoying it even more than before. I need surgery now, but so as not to waste the entire year, I challenged myself to run 300km in one month for the first time (I did this in September). I also wanted to run at least one marathon this year and I still need to run about 300km to achieve my yearly running goal I set in January and I really want to nail that too! The thing I'm most excited about, though, is having joined the #Skyrunnervirtualchallenge 3 times and having won one of them. So even though I'll be out for a few weeks I'm looking forward to the coaching and becoming a stronger runner. Next year I'd like to run an ultra of about 70km in the Dolomites.
What does a normal training week look like for you?
During these weird Covid times it isn't the same as usual. I've been running more. Lately I've been averaging between 60km and 70km per week. Normally I'd do more mountainbiking, as I really enjoy that too. Lately I've been adding some strength and mobility exercises I've seen Snezana do.
Which are your best training tips to other skyrunners?
Adventure is everywhere! No matter where you live you can always go out to explore the world around you in a different way when you're running. Go on Garmin/Strava and make a route that's different from what you usually run and you'll soon see that the places you're used still have unexplored things to be discovered.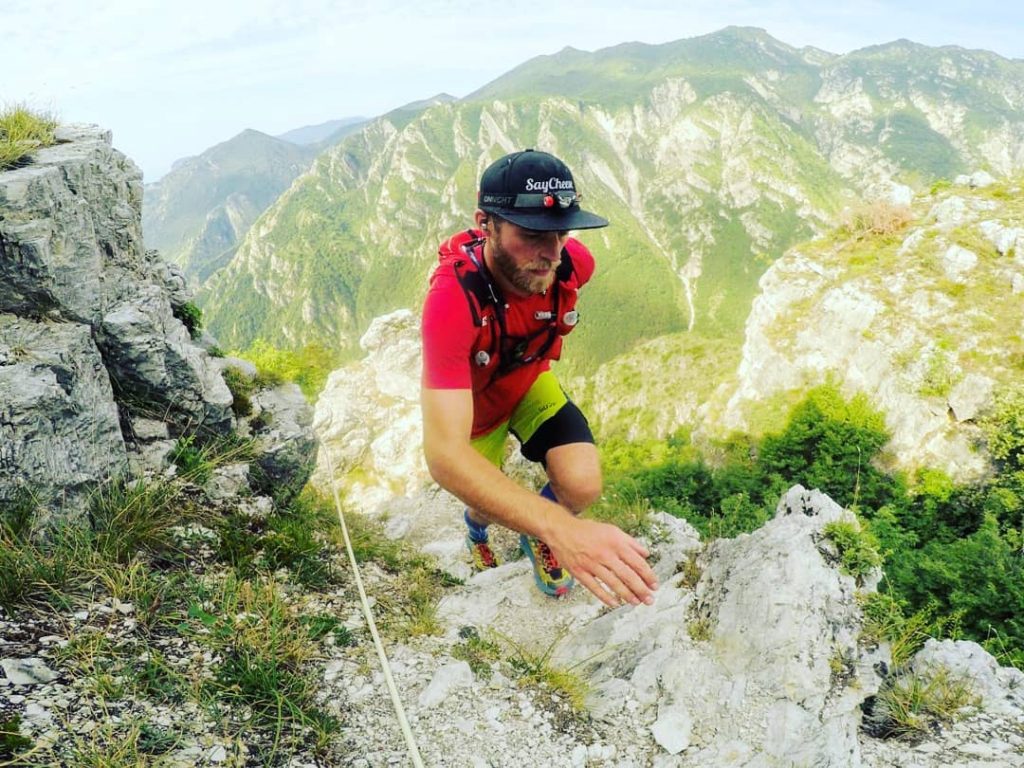 Which are your favourite races that you would recommend to other Skyrunners?
The Matterhorn Ultraks Skyrace if you like a 50km and some high altitude running in incredible scenery.
See my vlog of the race: https://www.youtube.com/watch?v=zfnuLwpM4Jw
The Limone Extreme race. I didn't take part in the race itself but I ran the course and it's absolutely jaw-dropping.
Are you involved in any other types of running-projects?
As you might've noticed I occasionally make vlogs from my experiences along with some friends. We have a YouTube channel where we share our adventures.
I really have a hard time explaining how these awesome runs went and so I just film them and make it easier to share the journey. Even if this means that I have to run 50km with a Gimbal and Gopro in my hands 😂
Check out our channel: https://www.youtube.com/channel/UCTYRS5m-3nxoNFwIq-OHKyA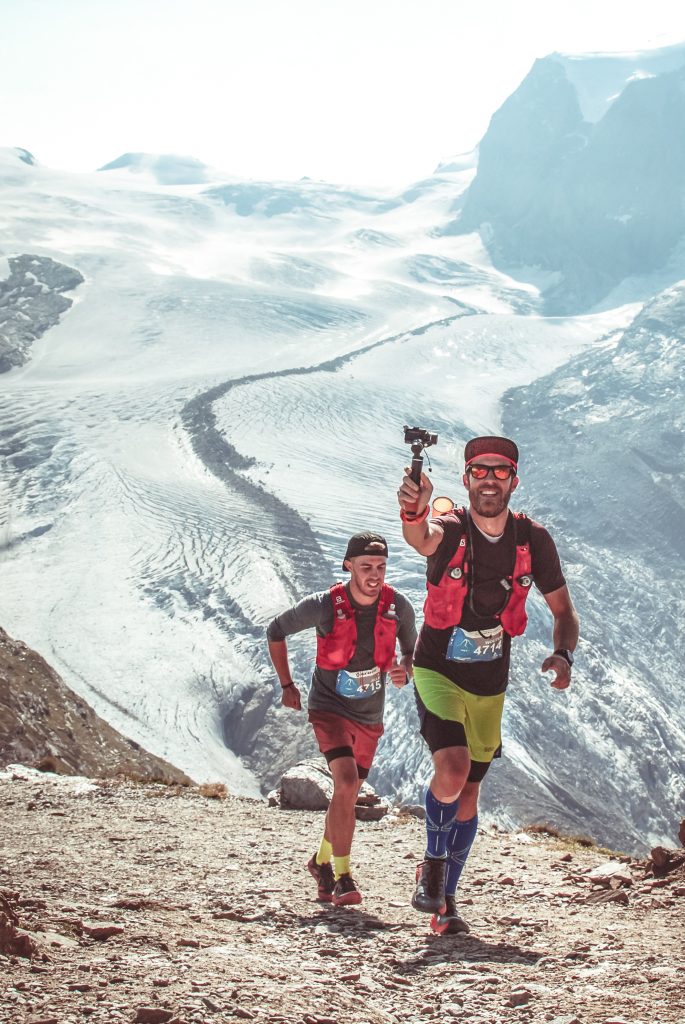 Do you have any skyrunning dreams and goals for the future?
I definitely want to learn more about this amazing community/sport and see how I can keep pushing myself to new limits, run with my friends and take people with me on the journey with the vlogs.
What does your game plan look like for that?
The first step was "get coaching" to stop the guessing and have people with specific knowledge help me get to the next level.
The step after that is to pick a new race. This will be a 70km race in the Dolomites (depends which ones have places available).
After that I'll probably be triggered to run even further so I'll have to start the race picking again 😉
What is your inner drive (motivation)?
The need to go on modern day adventures where I can get to know myself better and broaden my limits.
What is your advice to other people who are dreaming of being a skyrunner?
Everything you can think of and you actually believe in is achievable. Stop thinking about it and just do it!
Do you have anything else in your life that you like to share?
Yeah sure, as I said I'm a photographer and I love the combination of a creative and a physical challenge. This year I photographed a week in the Finnish wilderness on an arctic pulka expedition, went on a multi-day incentive photographing a bunch of amazing cyclists in Mallorca (whilst not being a road cyclist myself) and I have to say these things are so packed with adventure and really get me out of my comfort zone. I absolutely love this. So if you happen to have a crazy adventure planned and want someone to either film it or photograph it … Call me 😁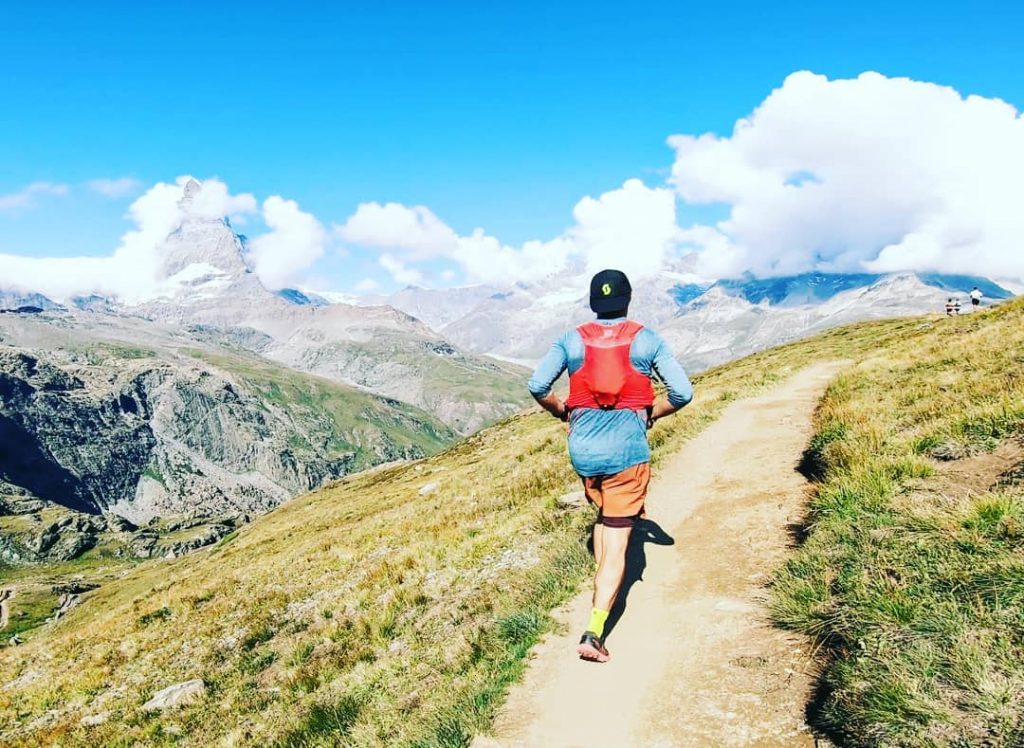 Facts
Name: Wouter Noerens
Nationality: Belgian
Age: 33
Family: Married with a son, Arthur who's 4
Country/town: Dilbeek
Occupation: Photographer / small business owner / creative centipede / woodworker / Occasional Youtuber
Education: Master in sports science
Facebook page: https://www.facebook.com/WouterNrs
Instagram: @wouternrs
Webpage / Blog: https://www.youtube.com/channel/UCTYRS5m-3nxoNFwIq-OHKyA
Thank you Wouter for sharing your story with us!
/Snezana Djuric
Like and share this blog post