24 August 2022
Trailrunning Coaching Online, How does it work?
Trailrunning, Skyrunning and Ultra-trail are very different to road running. They require a specific approach to training to be able to overcome the physical, technical, and mental elements involved, and also requires some specific coaching skills.
It's quite common that runners take some help with their running from a local running group or coach, but it might be difficult to find a local running coach with the expertise of trailrunning in these conditions, if you don't live in the mountains.
That is why I started Arduua!
I'm Katinka and I'm the founder of Arduua, and I live in the countryside next to Stockholm city in Sweden. We have the forest for trailrunning, but when it comes to mountains, the closest we can get is a 86 meter heigh slalom slope, and that is where I train in daily basis (and we have definitely no coaches here locally specialized in Skyrunning, Trail and Ultra trail).
A few years a ago I started to train with Fernando Armisén, a trailrunning coach from Spain, specialized in Skyrunning, Trail and Ultra trail, in his Online Coaching.
The training proved to be extremely effective, and worked very well for me, who at that time were preparing for BUFF Bydalens Fjällmaraton 50K, 2900D+ in Sweden.
So, with my entrepreneurial mindset I taught. This great Spanish knowledge and expertise in trailrunning needs to be exported to the rest of Europe, and probably also to the World.
One year later me and Fernando started Arduua. A global training service, offering Professional Coaching Online.
I will tell you more about it in this blog how the training service works…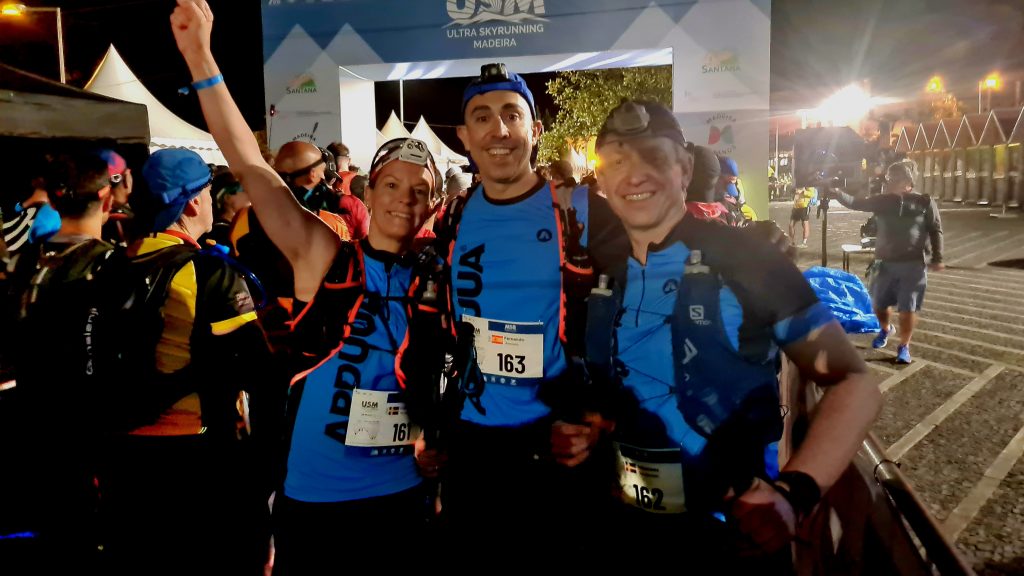 The Arduua coaches are specialized in Trailrunning, Skyrunning and Ultra-trail, and we understand what it takes to prepare for a challenging Trailrace, Skyrace, or Ultra-trail. All our coaches have a university diploma of minimum 4-years of university level in sports science, and extra specialization in Skyrunning, Trail and Ultra-trail, and they have the skills and experience to coach any level of runner from beginner to Elite.
The training plan that you will get is individual, and how it will look like depends on your physical status, goals, and training availability.
All that, we will find out about you in the first week of start-up tests, and we will know more about how your training plan will look like.
Start-up week and initial tests
All training plans starts with an upstart week that we call Build Your Plan:
You answer a questionnaire formula about your health, physical level, injury history, goals, training availability etc.
You perform a strength/mobility test (in video format).
You perform one easy run test.
You perform one hard running test (here we establish your level, and training zones).
Running step analysis (you send a video).
If you like you can go to a local center to perform a stress test and send to the coach.
After that first week of questions and tests the coach can building your Yearly plan.
Yearly Plan & Periodization
To ensure that you will be in your very best shape at race day, your coach will start to create a yearly plan for you, including your racing agenda and different phases of training.
Races ABC
We factor the races you want to run in to your training plan breaking them down into A races, B races and C races.
A Races: Main races where we will ensure you are in peak condition and ready to outperform yourself.
B Races: Races similar to the A in terms of distance, height gain, terrain etc. where you will test strategies, kit, pace etc. to use in your A races.
C Races: Races that will not modify our planning and we will integrate them into your training plan.
General Training Phase, Base Period (1-3 months)
General improvement of physical condition.
Work on Weaknesses (In mobility and strength).
Body composition adaptions/improvements (training and nutrition).
General base strength.
Training of foot ankle structures.
General Training Phase, Specific Period (1-3 months)
Training of thresholds (aerobic/anaerobic).
Training of VO2 max.
Adapt training volyme to goals and athlete history.
Max strength lower body, CORE, and running specifics.
Competitive Phase, Pre-Competitive (4-6 weeks)
Training competition intensity and pacing.
Training other competition details (terrain, nutrition, equipment).
Holding strength levels and plyometrics.
Competitive Phase, Tapering + Competition (1-2 weeks)
Adjust volume and intensity during tapering.
Reach race day with peak of fitness, motivation, full energy, levels and wellness state.
Nutrition guidelines, pre and during race.
Transition phase – Transition & Recovery
Joints and muscle recovery.
Recover regular functioning of body organs and cardiovascular system.
Nutrition guidelines post race.
Training plan & Trainings
After the first week of tests, your coach will be able to plan all trainings for you in Trainingpeaks based on where you are now, where you want to go, and your training availability. All types of trainings are planned for you (running, strength, mobility, stretch etc.…).
The coach will create a new training plan for you once a week, based on previous week results and how you are feeling. After that, your coach will analyze your trainings once a week and give you comments. In that way your training plan is adaptive, and will follow your individual progress and feelings, and we can advance according to that.
All running sessions are preprogrammed for you in Trainingpeaks, and once you have synced Trainingpeks, training watch and pulse band, your trainings will automatically appear in your watch.
All trainings are based on time spent and how hard it is for you (measured by pulse), and you will be guided by your training watch in real time.
For example, start warm-up 15 min go. If you run too fast (too high pulse) the watch says slow down (if you have Garmin). Then the watch tells you it is time for intervals 1 min. If you are too slow (too low pulse) the watch tells you speed up etc.…
After that the training is performed you put your comments how you feel about it.
Choosing Coaching Plans
We have different types of Coaching plans for different needs and goals.
If you are heading for Elite level, and if you like to have our highest level of race coaching service, with a very tight communication with your coach, and Video Meeting once a week, I suggest Elite Coaching.
If you like a high level of race coaching, with comments 3 times a week, and Video Meeting once a month, I suggest Race Coaching.
If you like a high level of coaching, with comments once a week, and no Video Meeting's, I suggest Weekly Coaching,
We also have Monthly Coaching, which is our budget alternative, with comments once a month.
Please check out more info about our training, and Coaching Plans & Pricing Here >>.
Next step…
I hope that answerd som of your questions about how the Arduua Online Coaching works.
For more info about our training methodology please check out How we train >>.
Sign up for Online Coaching Here >>.
Please contact me personally for any questions.
/Katinka Nyberg, katinka.nyberg@arduua.com
Like and share this blog post