15 July 2020
Anything is possible if you are fit enough
She is a full-time working mother of three kids, training almost every day, enjoying life in the mountains. This year she became the Winner of the Month in the SkyRunner Virtual Challenge. Now she is training with Arduua and is taking on some new challenges.
This is Hanjas's story…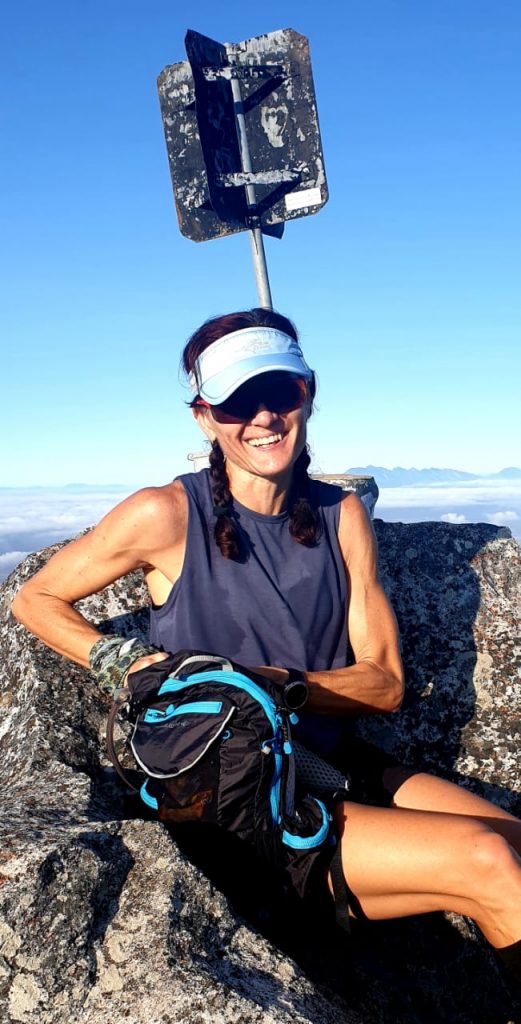 Who is Hanja?
I am a 45-year old mother of three kids from South Africa. I love sport and running in the mountains. A few years ago I started to challenge myself, pushing harder, moving outside my comfort zone. The possibilities started to grow, and I started to get out more out of life, as well as my running.
I am constantly working on being on this planet long enough to do, or at least try to do, it all!! Life is short, and I don't like to waste time.
What is most important for you in life?
To appreciate to the fullest, every moment given to me.
Where does your passion for skyrunning come from?
I have always been an active person in my school and student years; ballet, athletics, running, but nothing too competitive. Road running injured my knee menisci, so I had to stop. I continued to dance throughout and only recently started boxing and bodyweight exercise at a local gym as well as mountain biking. Then Parkrun arrived in our town and I felt brave enough to run again. The crosstraining helped prevent further injury, and I felt confident to enter in trail races locally.
Then, of course, my husband gave me an exercise watch, and I became hooked to trailrunning.
I have always envied my brother for traversing mountains locally and abroad. I never felt brave enough. But with our beautiful mountain range, the Langeberge, practically on my backdoor, I gradually became more confident and adventurous. Initially with likeminded friends, but even began summiting solo, more-so during lockdown due to the Covid pandemic.
Now I am addicted to the mountain; it is my therapy. I am also addicted to going higher, steeper and faster, even though our mountains are quite limited in comparison with those of Europe.
Can you describe your significant personal strengths that took you all the way to this level of running?
I am not a quitter. I can become obsessed with something in order to complete a goal, especially if it is not expected for me to succeed. Time management is also a personal strength; I do not waste time, it is too precious.
Is Skyrunning a hobby or is it something you do for a living?
Mountain running is one of my hobbies, and has quickly become my favourite. I have been working as a medical doctor in my own practice and local hospital in Swellendam for the past 17 years. I have also completed my Visual Arts degree (part-time) and see painting as my second calling. Mountain running is therapeutic for both disciplines, as it serves as emotional release. The sense of freedom and satisfaction one feels after a hard day in the mountain cannot be obtained in any other way.
Have you always had this type of lifestyle or have you had any change in direction?
I have always been eager to learn new things in an academic sense, and I practised a physical lifestyle purely to stay healthy. But then in my forties I read an article on how to slow down your perception of time by learning new skills that are out of your comfort zone. So, last year, I conquered my fear of water by learning how to swim and I am now able to enjoy open water swimming. My husband and sons do enduro motorcycle racing, and now they are busy teaching me to ride a motorcycle from scratch. I would like to take my trailrunning a step further to conquer some mountains in the near future!
Which is the most challenging and demanding situations that you been through to get you where you are today as a person?
If you want physical, emotional and mental challenges you choose to follow a medical profession in South Africa. Sleep deprivation, risky work situations and the emotional demands of losing young patients are amongst the challenges. Therefore, the therapy of the outdoors helps me with the preservation of sanity.
Do you usually push yourself outside your comfort zone? How does it feel at the time? Can you see that the rewards coming out of this is worth this little extra effort?
The pushing outside the comfort zone physically only began quite recently after I started with the learning of new skills. I now constantly remind my children that ANYTHING is possible if you are fit enough.
What do your race plans and goals look like for 2020/2021?
Unfortunately Covid rules at the moment, but as soon as events are open again, I would like to be able to do more endurance type races. So far I have only competed in and enjoyed short races with significant elevation gain.
What does a normal week of training look like for you?
Fitting in training around my normal work, creative interests and parenting is quite a challenge, but I am fortunate to have support from my husband and other parents. Running is either trail/mountain or road up to three times a week (mornings or weekends). Mountain biking twice a week and swimming once or twice a week (less frequent now during winter). I also do bodyweight exercise in the evening three to four times a week with a group of friends. All my exercise I try to do with groups of friends who have similar interests, thereby ensuring that I have to run at 6am in the cold, dark, mist because someone is waiting for me!
What are your best training tips to other Skyrunners all over the world?
My knowledge of Skyrunning is limited, but what I found since becoming competitive in mountain running is the value of crosstraining. Bodyweight exercise, stretching, swimming and cycling strengthens all muscle groups and lessens the chance of injuries, especially as the body ages. One should also listen to your body and constantly remind yourself of WHY you are doing this: it has to be enjoyed!
Do you have any dreams and goals for the future that you like to share?
I would like to be able to go further and do more endurance type races. At the moment I only feel confident in shorter distance races.
What does your game plan look like for that?
Training with professionals will hopefully help to obtain this goal.
What is your inner drive?
Life is short. Make sure you have done everything you wanted to by the day you die. Don't waste any time.
What is your advice to other people who are dreaming of an active lifestyle and running in the mountains?
Get up and start somewhere, especially if you have safe access to beautiful nature! It is a privilege that has to be used.
Thank you!
Thank you, Hanja, for taking your time to share your amazing story! Very inspiring! Wishing you all the best luck in the future with your running and everything that you want to do in life.
Happy SkyRunning!
/Arduua
Facts
Name: Hanja Badenhorst-van Der Merwe
Nationality: South African
Age: 45
Family: Husband Reinhardt, three children Krige (13), Reinier (11), Ine (8)
Country/town: Swellendam, in the Garden Route of South Africa
Your team: Arduua
Occupation: Medical doctor and Artist (painter)
Education: MBChB: University of Stellenbosch.
Bachelor Visual Arts: UNISA
Facebook page: fb.me/jcbvdm74
Hanja Badenhorst-van der Merwe
Instagram: hnjbdnhrstvndrmrw, arteryonline
Like and share this blog post