26 November 2021
TEAM ARDUUA AT CAMP VALLE DE TENA
Stunning landscapes, summit views, rocky ridges, fast descents and adrenaline highs.
This is Skyrunning.
Last season in the end of June we started up a new tradition, where Team Arduua meet up for a Camp in Tena Valley, in the Spanish Pyrenees. This is coach Fernando's home arena, and we go here to run, enjoy and also to train for the big race Trail Valle de Tena which usually takes place in the end of August or beginning of September.
This blog is from the camp in June/July 2021, and next season we will have a similar Tena Camp in the end of June.
Blog by Katinka Nyberg, Arduua Founder.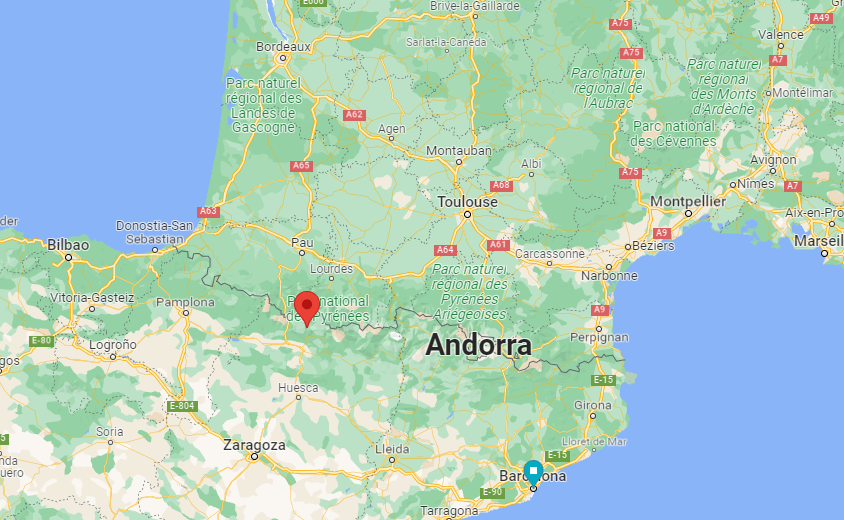 Tramacastilla de Tena is a beautiful, very small and picturesque mountain village located in the Spanish Pyrenees, close to the French border. This is Coach Fernando Armisén's home arena, and he knows these mountains from the inside and out.
This year we kept the camp internal for staff and frontrunners, as this was the first arranged camp with Team Arduua. Me Snezana Djuric, Tomas Amneskog and Vladimir Potric met at Barcelona airport at the car rental. From Barcelona it was about 5 hours' drive, and the journey went well.
We arrived at Tena Valley in the evening, and it was soooo great to finally meet Fernando after many months of meetings Online in Teams, with no real life events.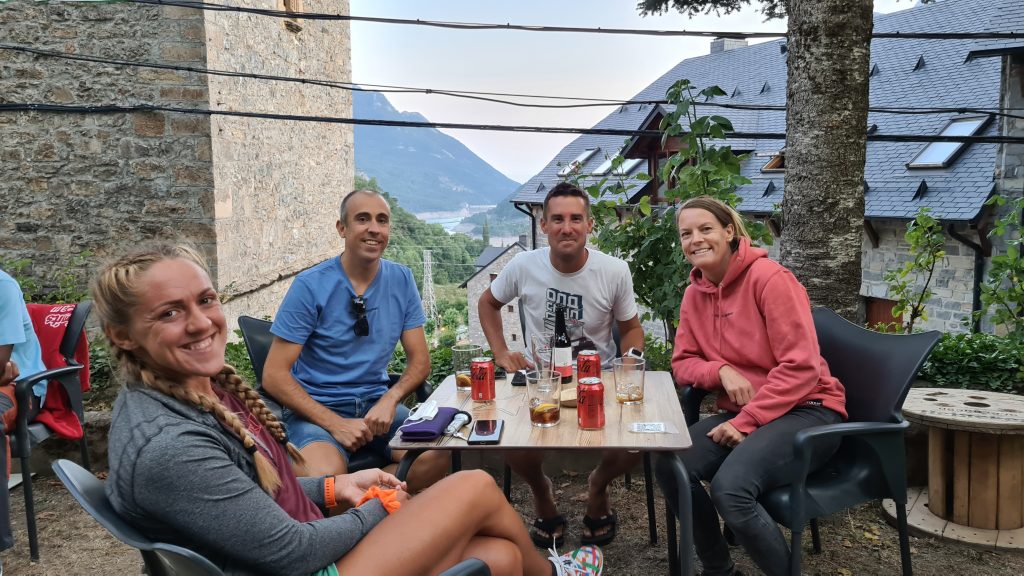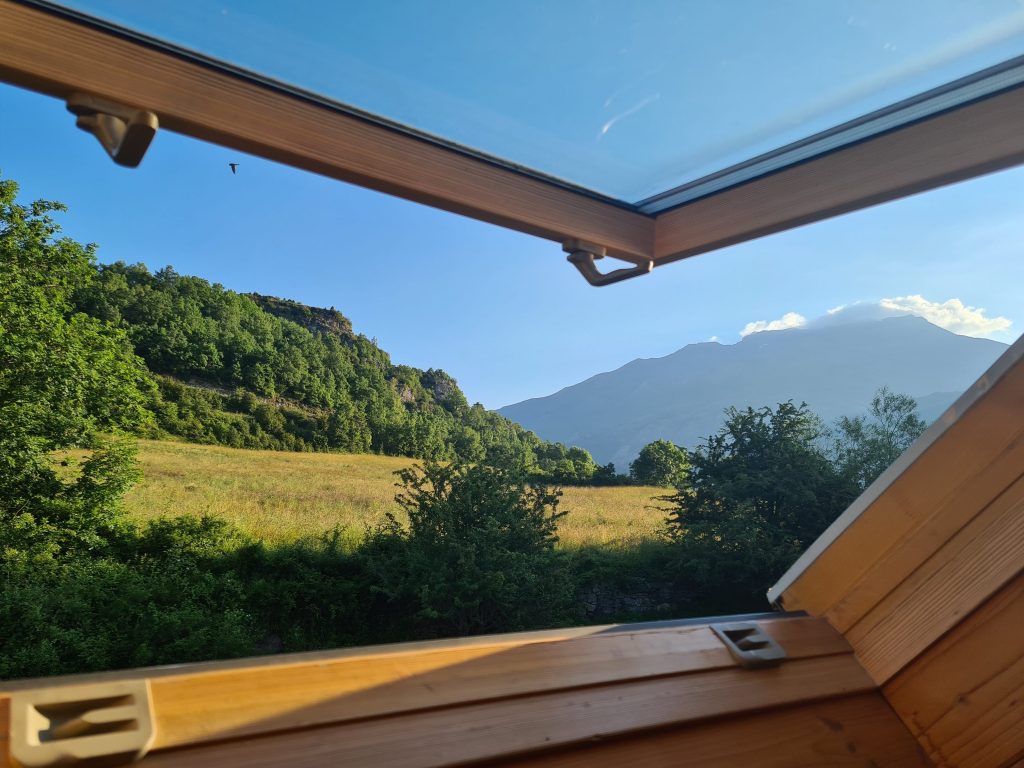 We decided to wake up early taking advantage of the full day. I just love the mornings in the mountains, the fresh air, and the beautiful light!
Imaging waking up with this magical view over Tena valley, with the that great feeling of having four fantastic days ahead of you, up in the mountains together with the team.
We started of the day taking our morning coffee, Fernando explaining the routes for the camp, and also which parts that were part of the Trail Valle de Tena 43 km.
I also have to admit that I was a little worried about my Fitness, because I know that the other runners level was so much higher than mine. Fernando like a mountain goat, basically born in the mountains, Snezana an elite, and the others very fast too.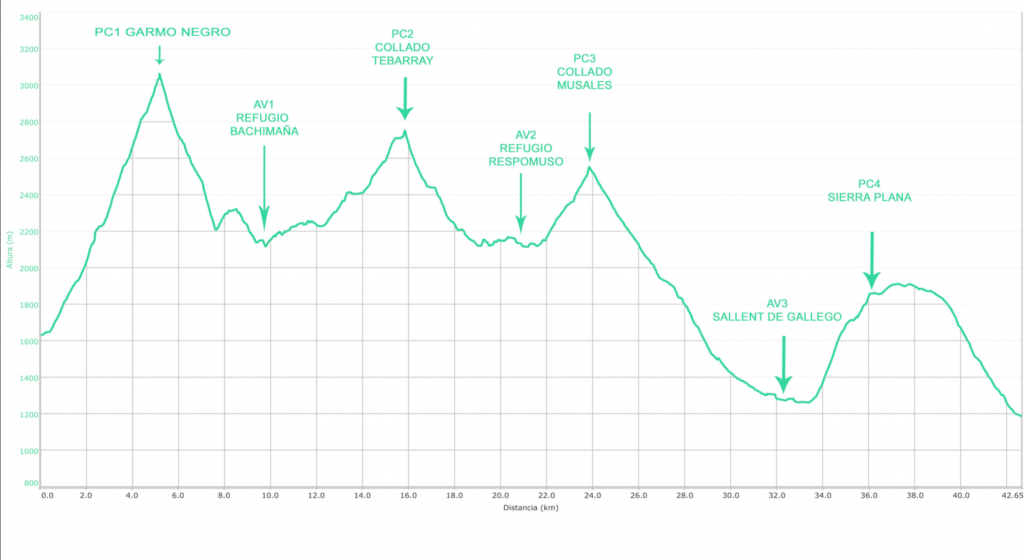 Day 1 – PICO MUSALES, 2654M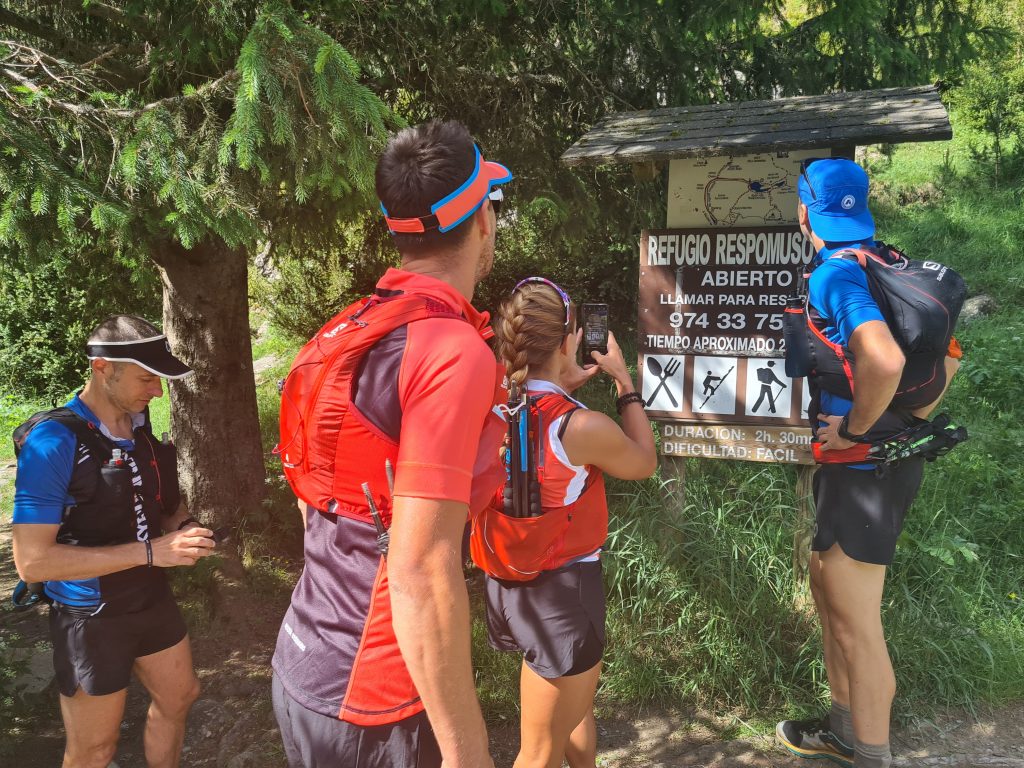 Musales is the the third climb of Trail Valle de Tena, and this was the first route we did at the camp. Starting of at Lasarra to Respomuso and then ascending to the Pico de musales, 2654m and back to Lasarra. 18KM / 1200m D+ (difficulty: medium).
The first section up to Refugio de Respomuso was quite easy, but still uphill. The faster runners were running all the way to the Refugio which for them was easy. For me everything that is uphill is hard, and it's not possible to run 7 km uphill. Therefor I did that part power-hiking with sticks in a good and steady pacing taking company with Vlada, who were also teaching me a little bit how to handle the sticks better.
The others were waiting for us at the Refugio Respomuso, and here it was also possible to buy some food and drinks. I had a big ham and cheese baguette and a coke. Always hungry 🙂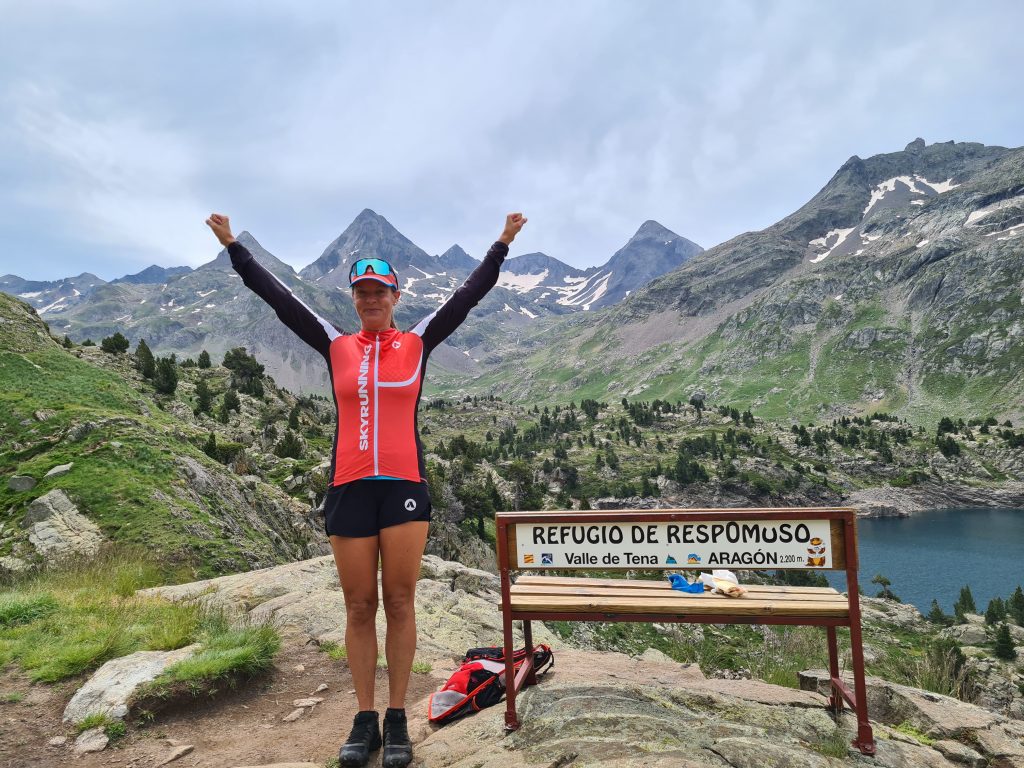 The second section from the Refugio Respomuso to Pico Musales was a lot steeper, which suited me better. When it's very steep, it means that everyone is doing hiking with sticks, and it was a lot easier for me to keep up with the team. We also did a lot of stops taking photos etc…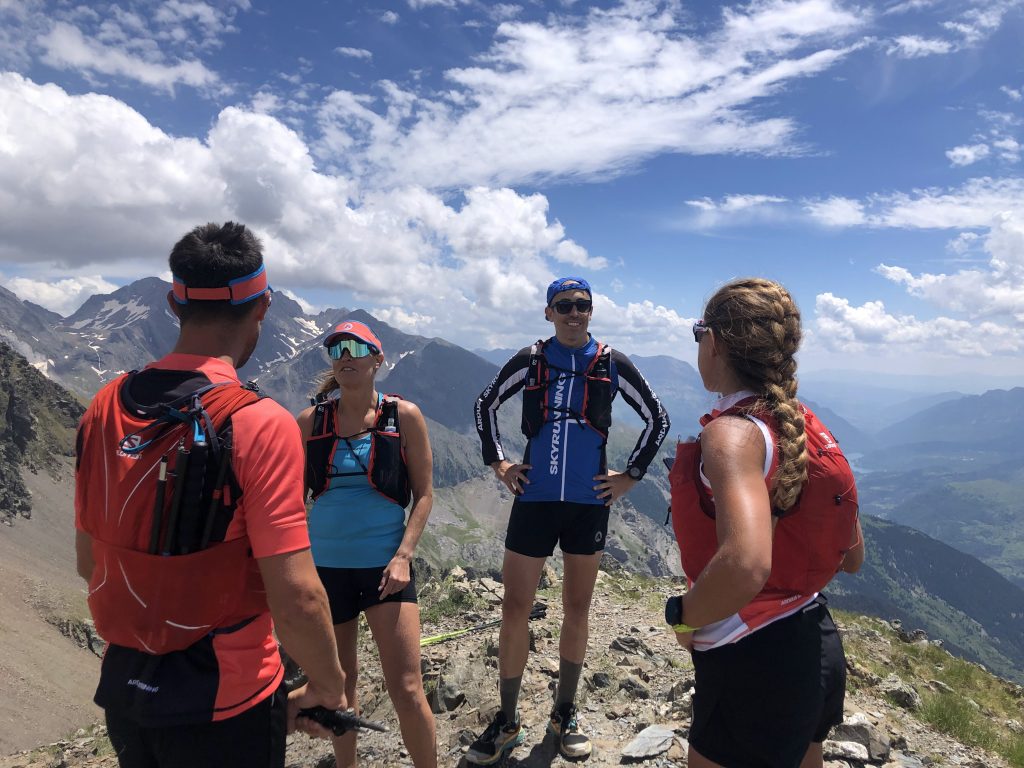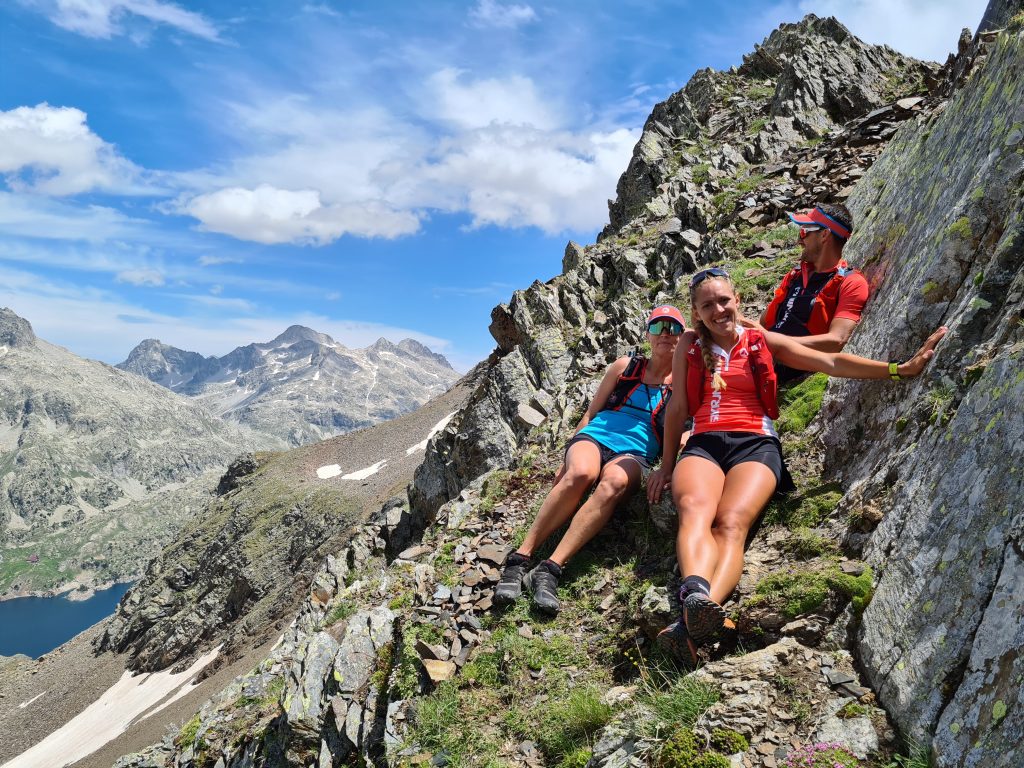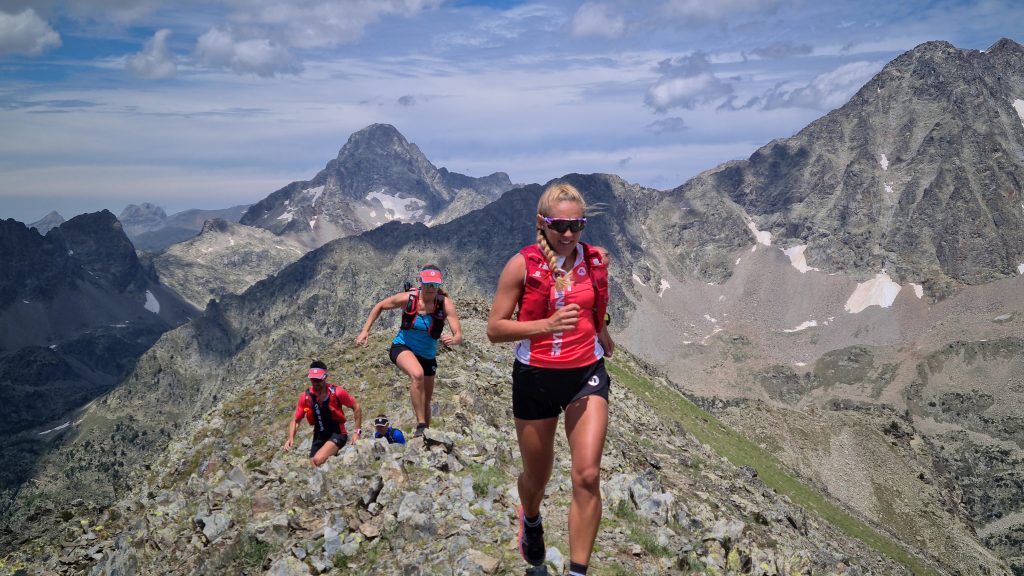 I hope you understand that running on a peak like this was only a very short part of the route, and I just wanted to feel how it felt.
Of course, it was great, getting our few moments of fame feeling like Kilian!
DAY 2 – PICO GARMO NEGRO, 3064M
Garmo Negro is the first climb of Trail Valle de Tena, and also the steepest and hardest one. 1500 meters of climb in only 4 km says it all. Today we were starting off at Refugio casa de Piedra to the peak of Garmo negro, 3064m, down to Refugio Bachimania and then back to the Refugio casa de Piedra. 12KM / 1600m D+ (difficulty: high).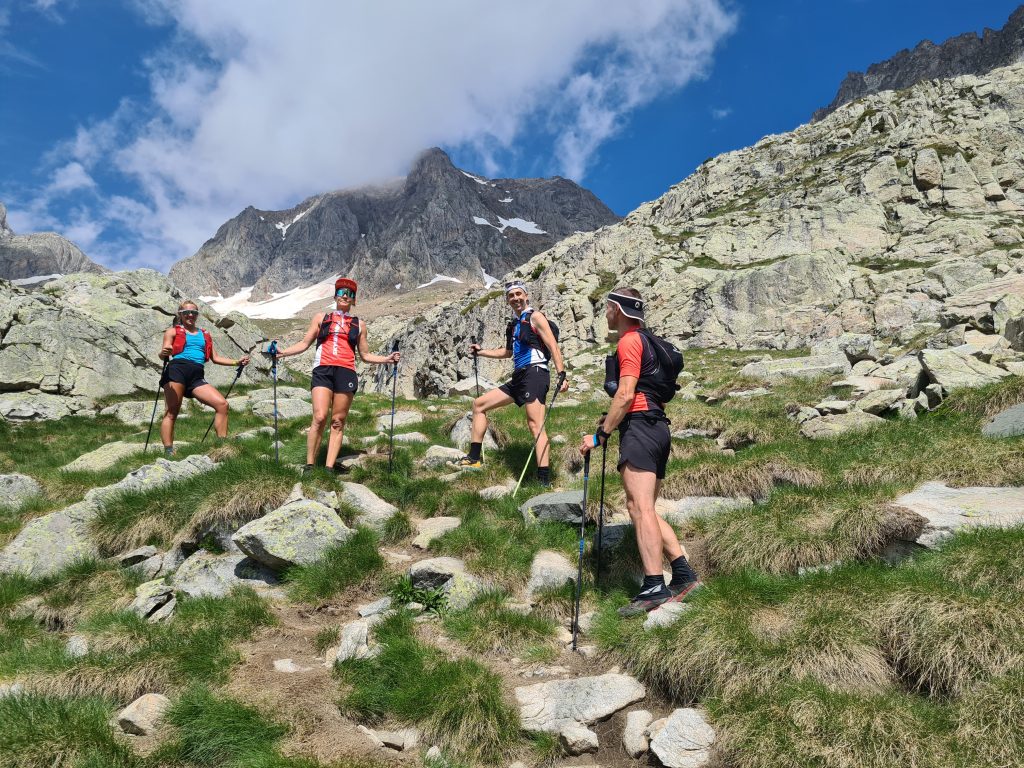 In the end of June some of the higher parts of Garmo are still covered in snow, and it was time to put on our crampons. Actually, this was the first time that I was trying crampons, and it was a quite exciting experience for me.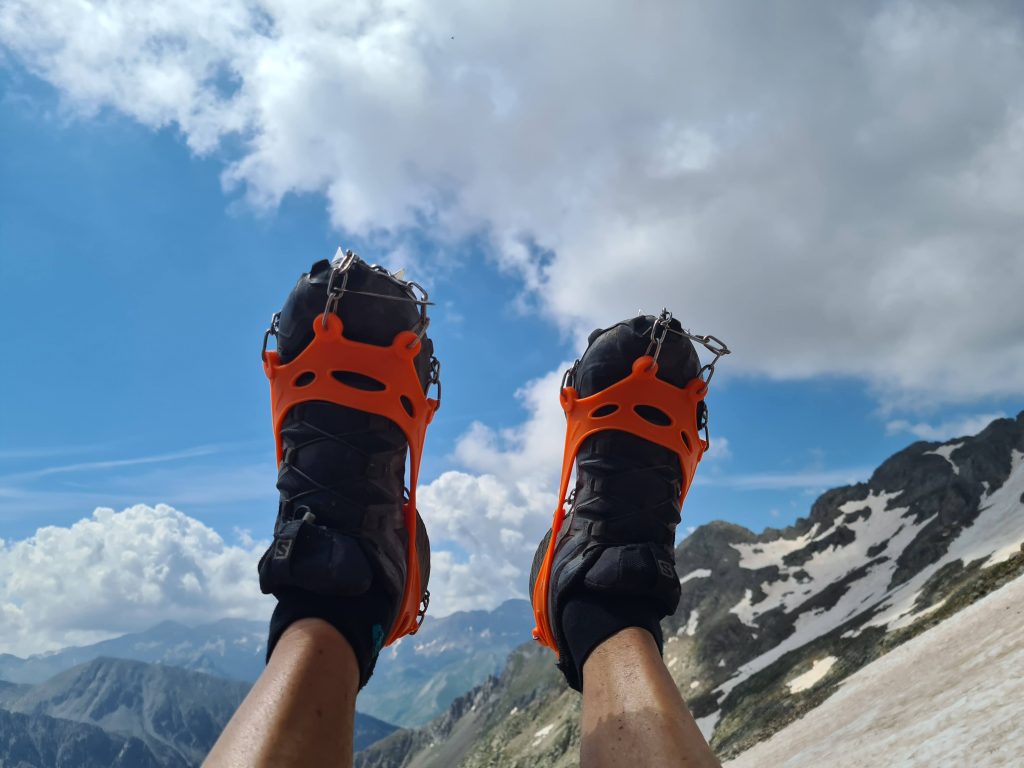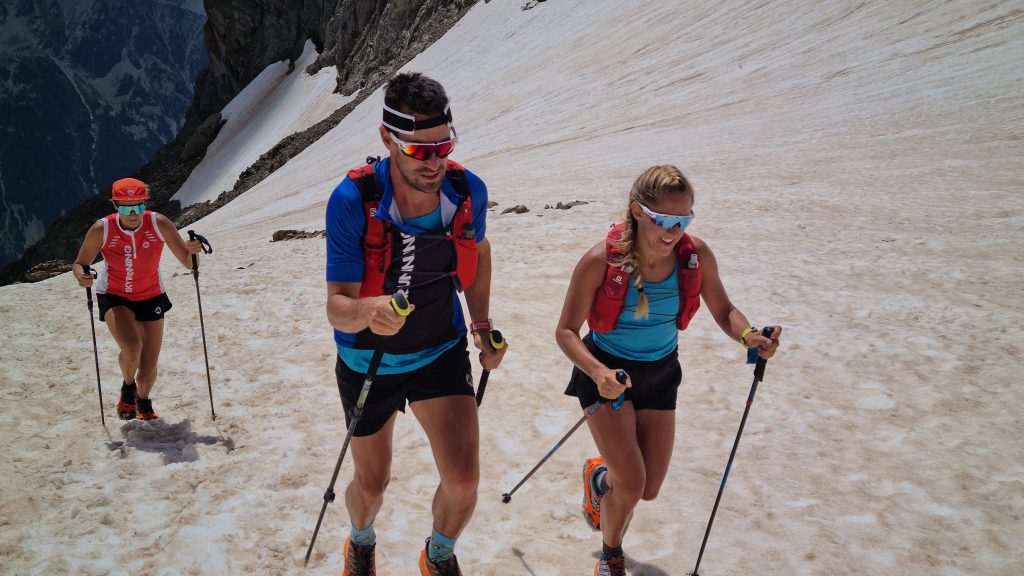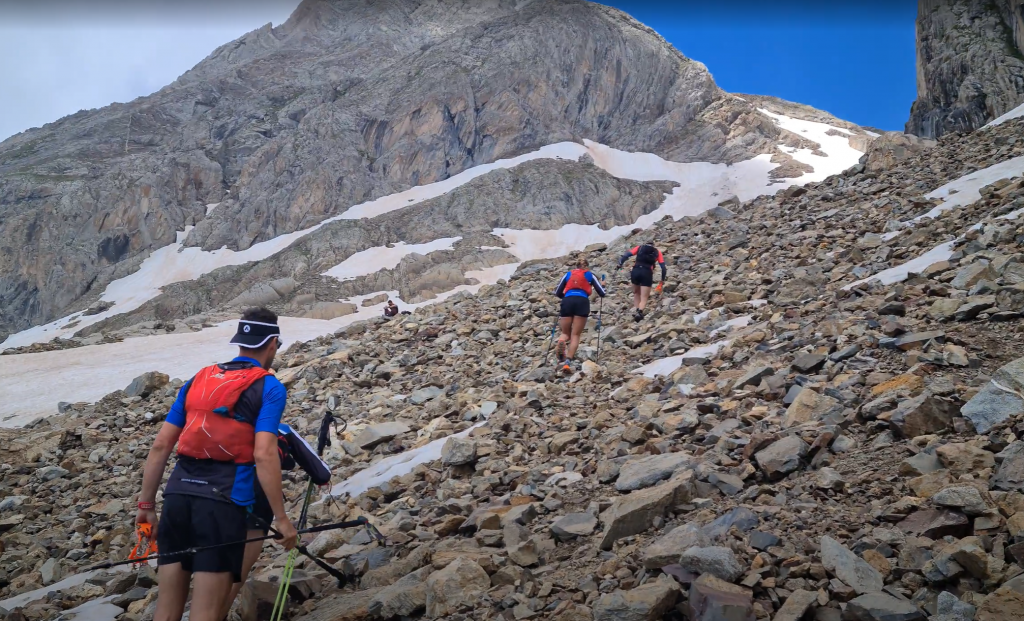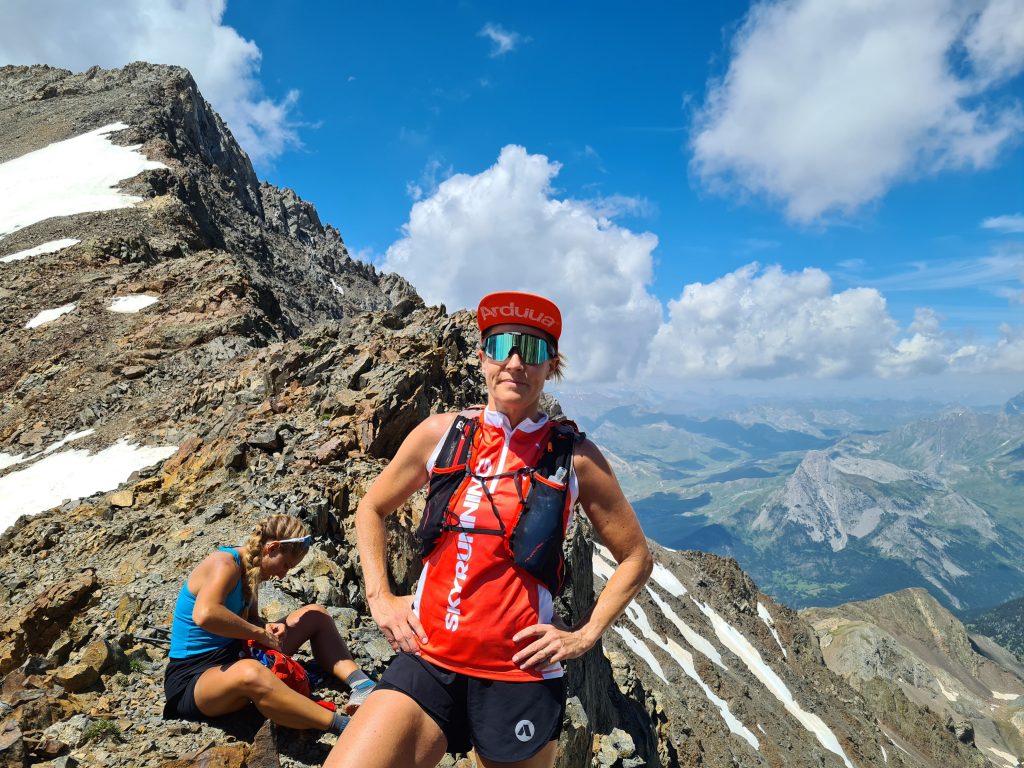 After passing the snow area, just before climbing the Garmo Peak, we removed the crampons again, and it was time for some climbing. If you are not used to steep mountains and if you are a little bit scared of heights this section could be a little scary, and it is super important to takt it easy, making sure that the stones that you are holding on to while climbing are not loose stones.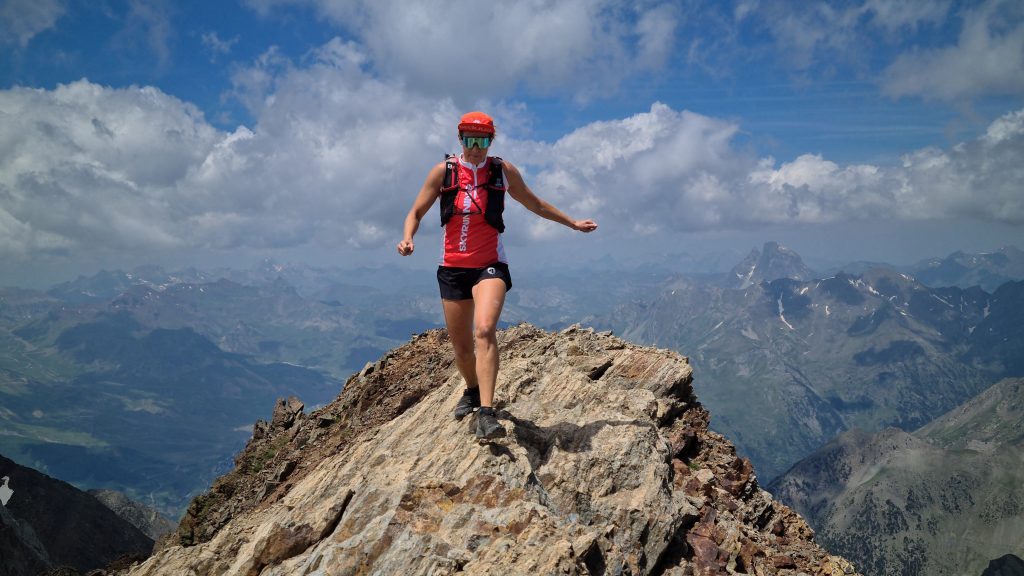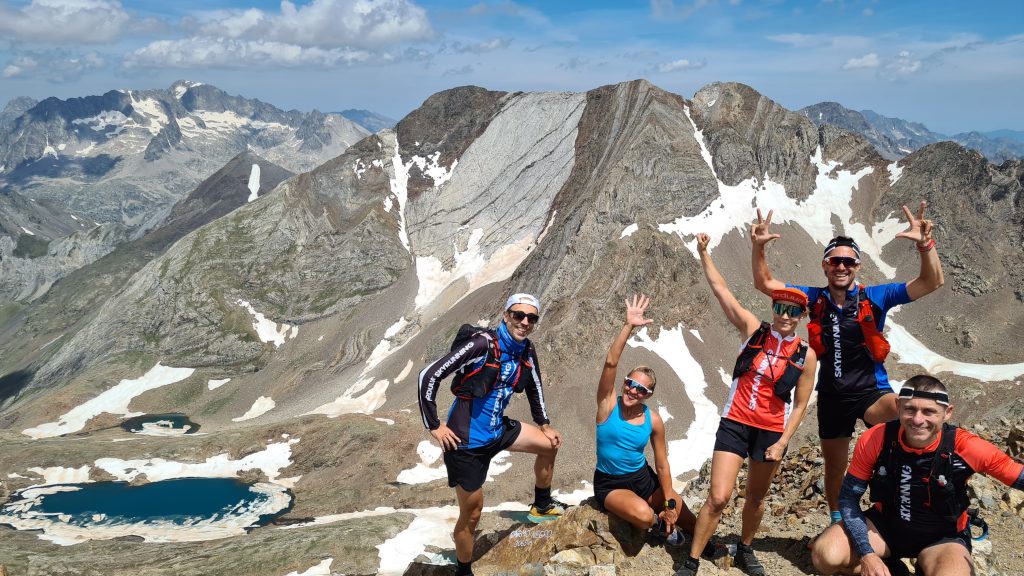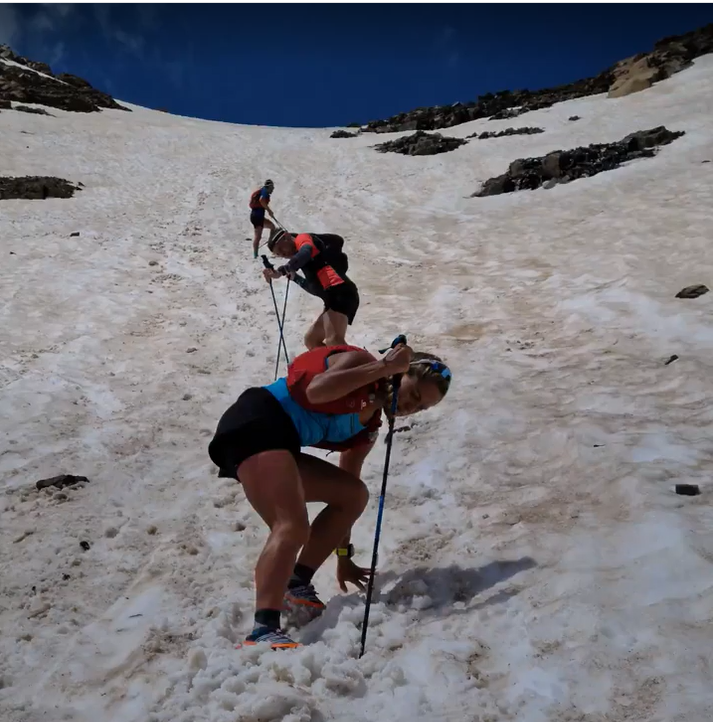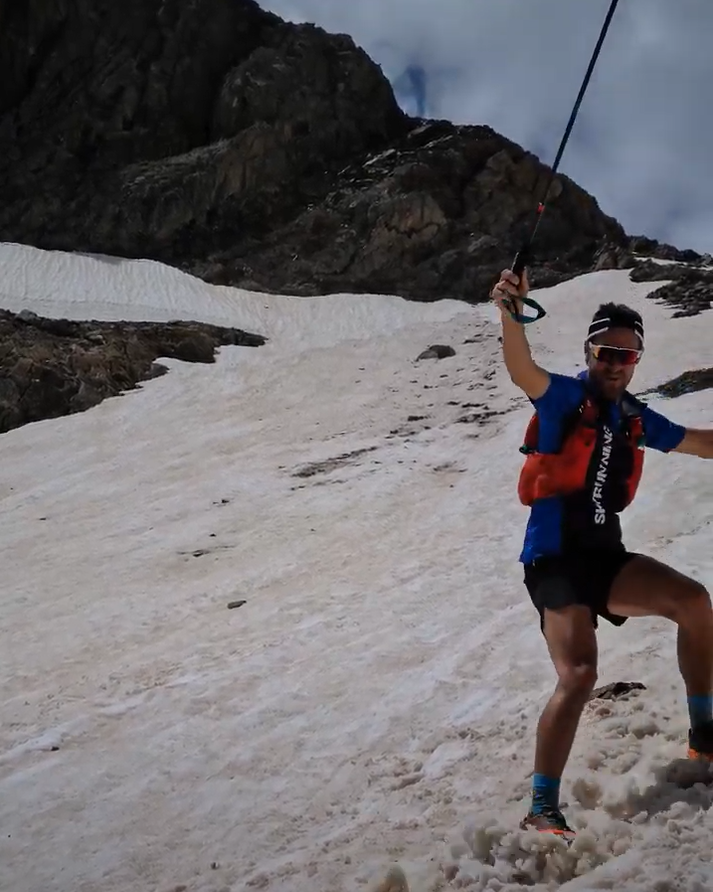 It was a little difficult to get down in the steep part with the snow, and this part could also be quite dangerous if you are not used to it. If you fall you can fall really bad and sometimes you can't stop. Actually, Snezana fell quite bad like that and fall like 50 meters and hit her hip on a stone.
Lesson learned from this is when we take quests next year at the camp, we will do this route safer using hiking boots with longer spikes, and taking it a lot more easier and slower than we did this day.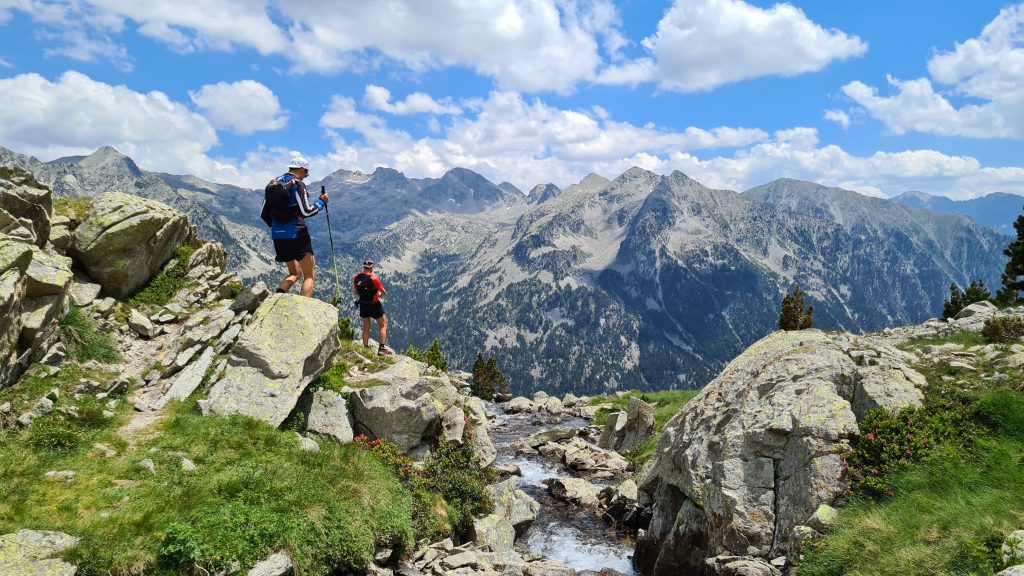 The rest of the downhill section from Garmo Peak was also very beautiful, but quite technical and demanding, as we were running all the way down to Refugio Bacimania.
Summing up a great day at Refugio Bacimania, having lunch, all of us super happy and tired.
DAY 3 – PICO GARMO BLANCO, 2900 m
Only me and Tomas Amneskog this day. Fernando where working, and Snezana and Vlada resting.
Pico Garmo Blanco, 2900 meters of altitude is just next to Collado de Tebarray, which is the second part of the Trail Valle de Tena race.
We were starting off at Refugio casa de Piedra, passing Refugio Bachimania, and were then hiking with sticks up to a peak next to Garmo Blanco, almost 2900 meters of altitude, and then the same way back. 18KM / 1500m D+ (difficulty: high).
We had a super great day together with a mixed mountaineering tour including, uphill hiking with sticks, climbing, downhill running and many stops for food, drinks, and photos!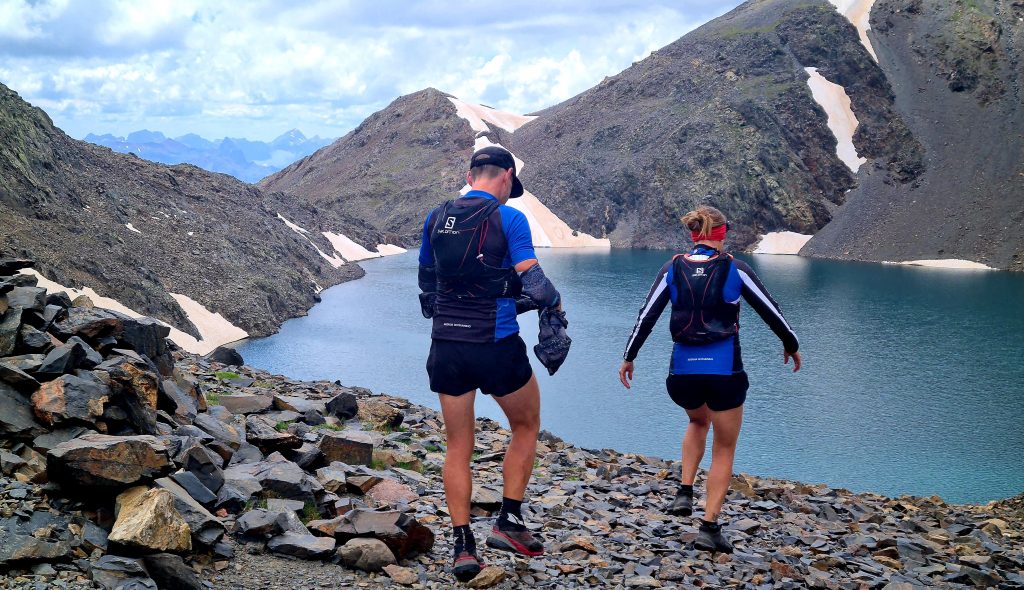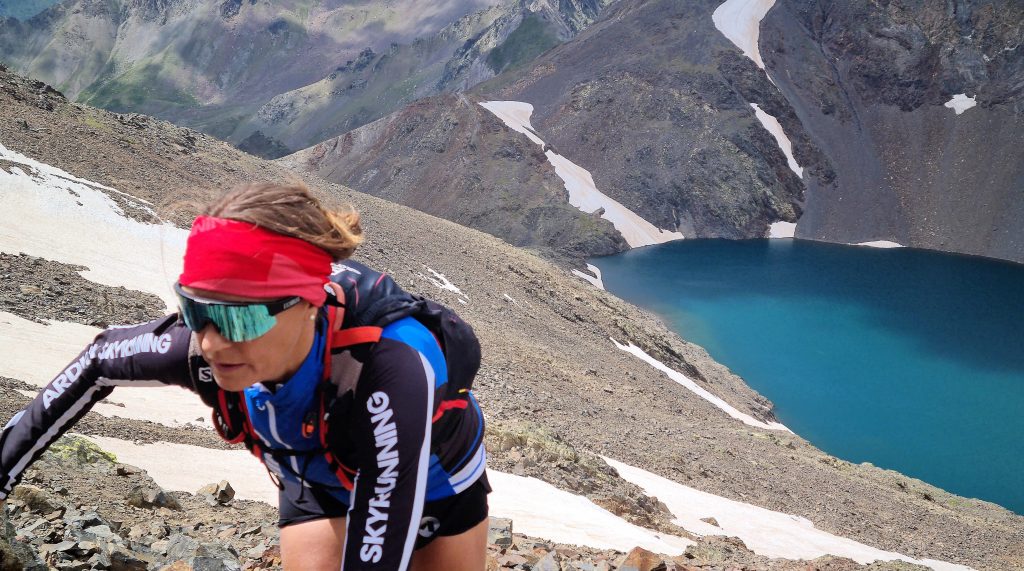 The last climb from the lake were quite steep and difficult, with many rolling stones. To make sure we were climbing safe, we were climbing in parallel lines, taking it easy.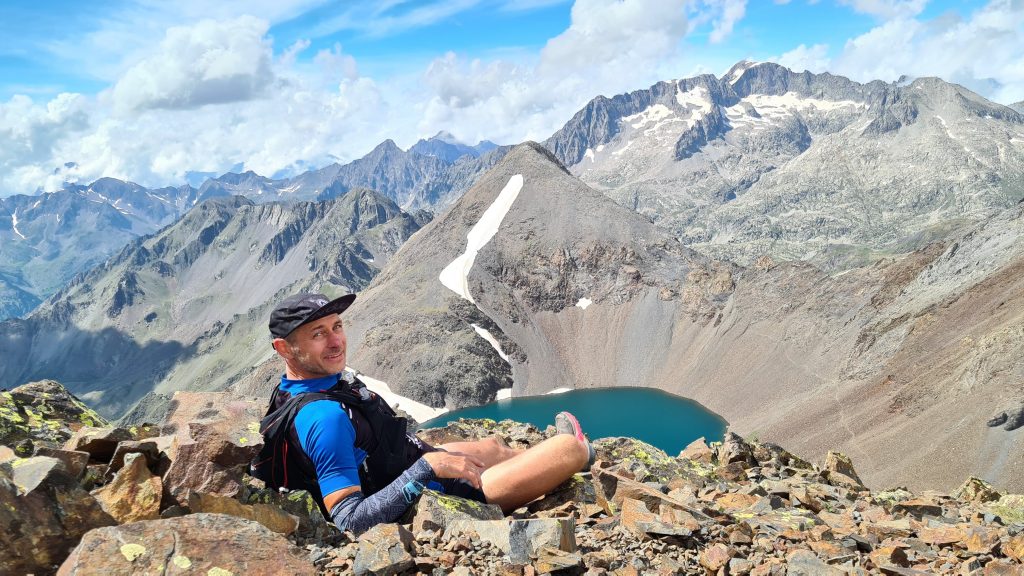 We had a super great day together, and the only problem now was that we had 3 days in the mountains, while the others had a rest day today. 🙂
DAY 4 – PICO PENA TELERA, 2762m
The last and the fourth running day we were meeting up with Alberto Lasobras and some other of the Spanish runners in our team. Today we were going to climb Pico Pena Telera, 2762 meters of altitude and also one of the most difficult ones of all the routes that we had done this camp.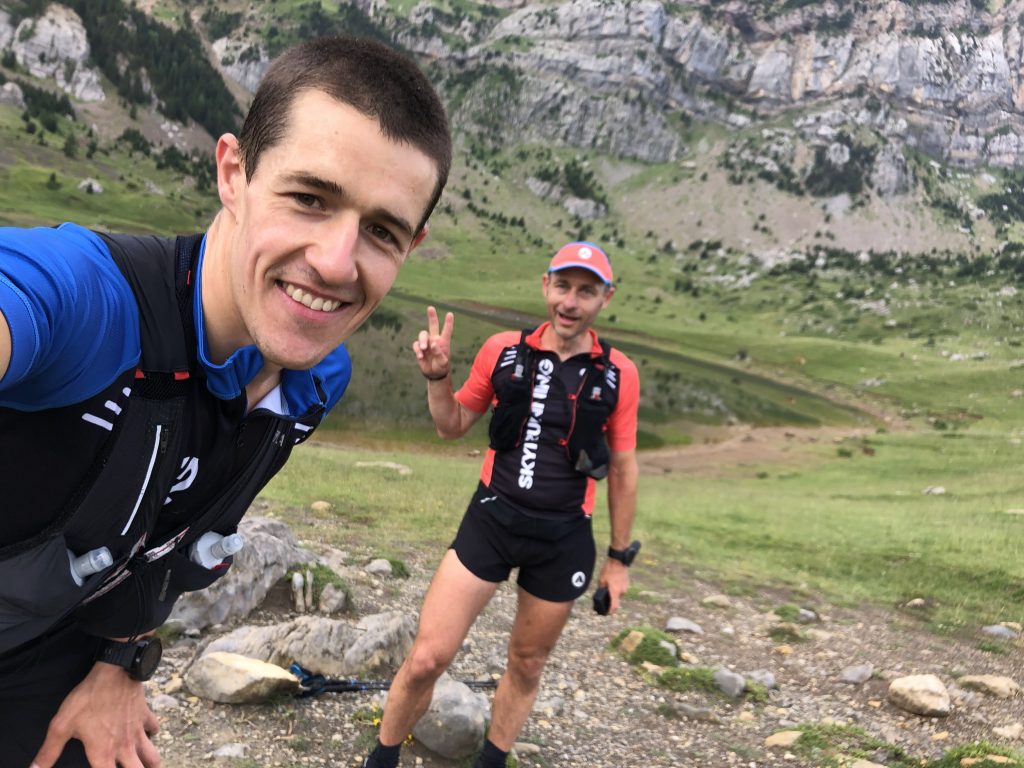 Alberto and Tomas seemed to get along very well, even if I don't exactly know how they were communication in two different languagws. But I think they were discussing hunting. 🙂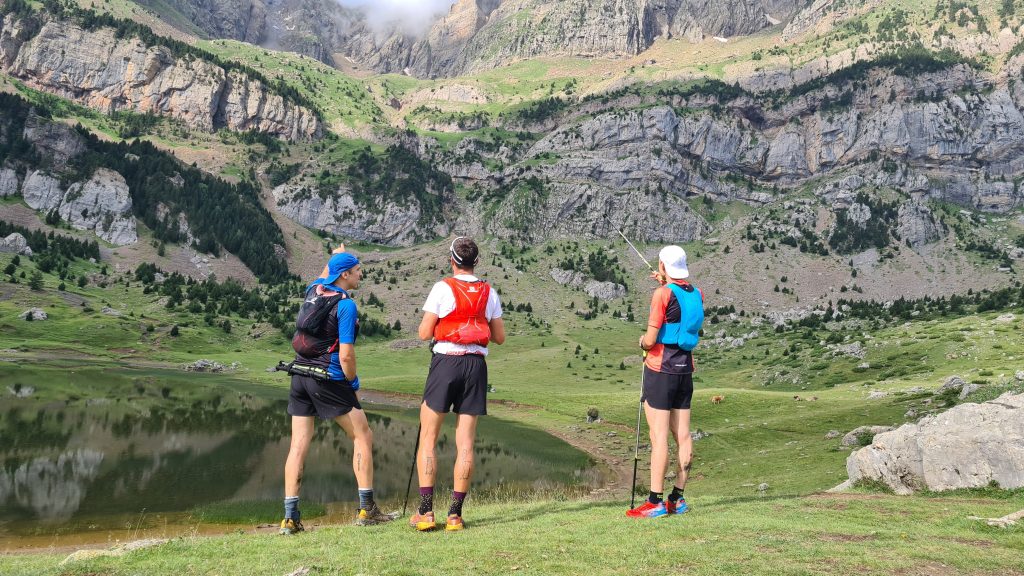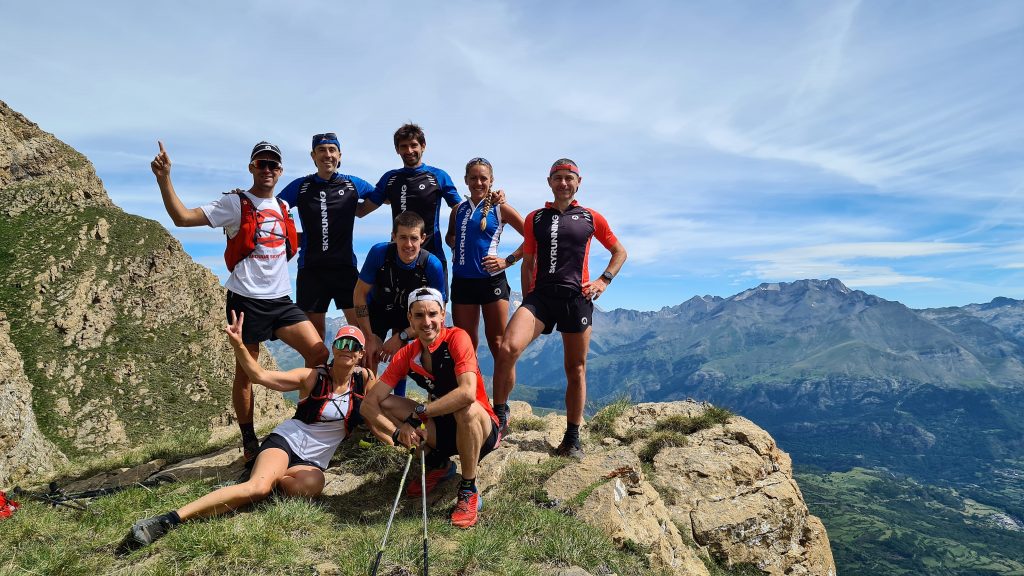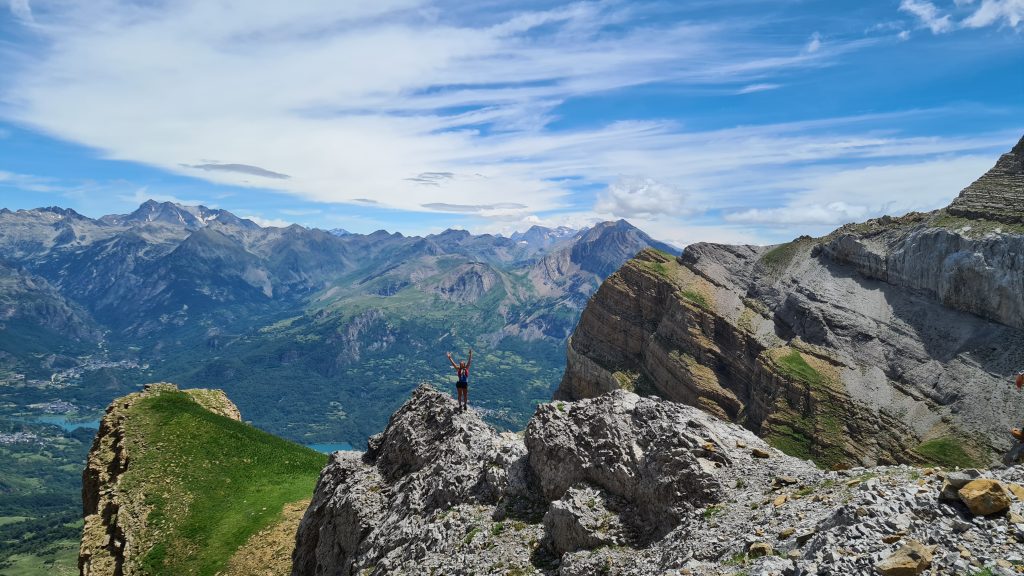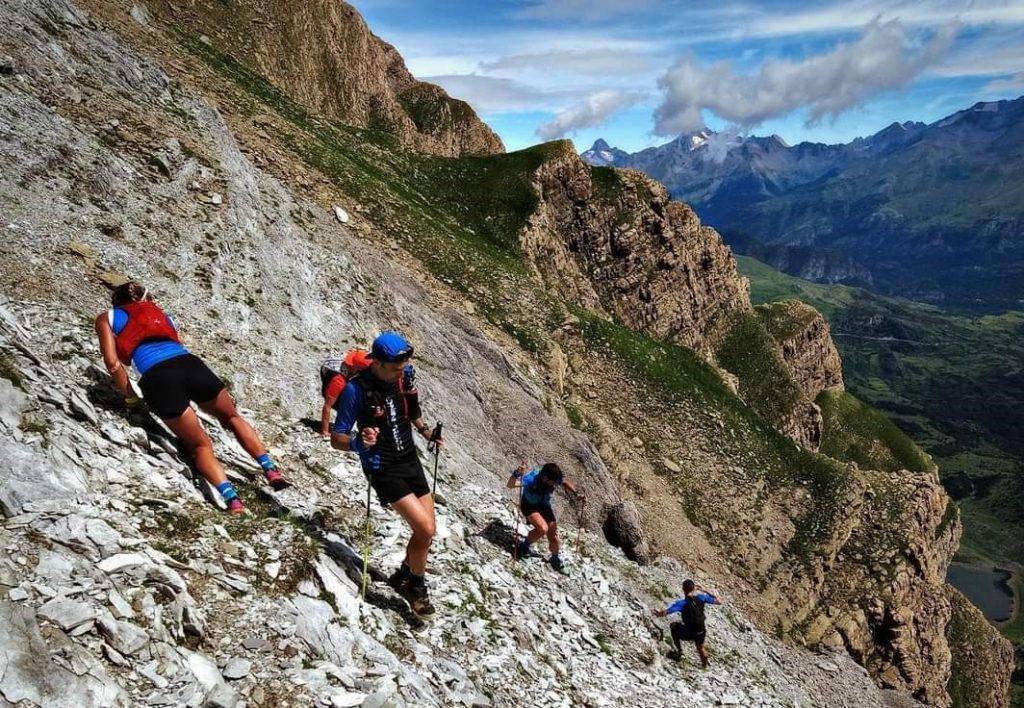 Some parts of this route were quite technical and steep, and could also be dangerous if you are not used to move in mountain environments. There were also many loose rolling stones, which could cause accidents if you are not paying attention.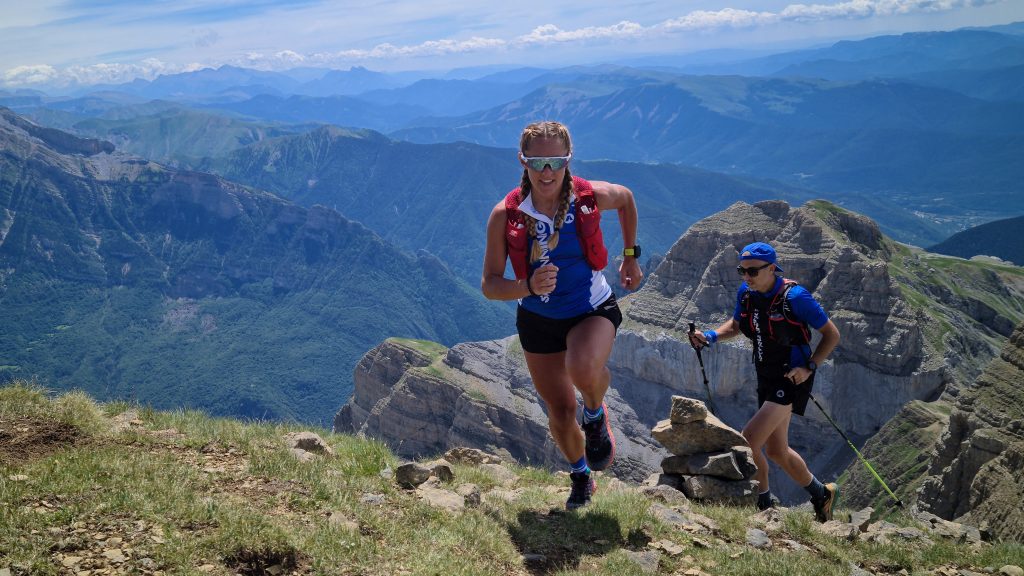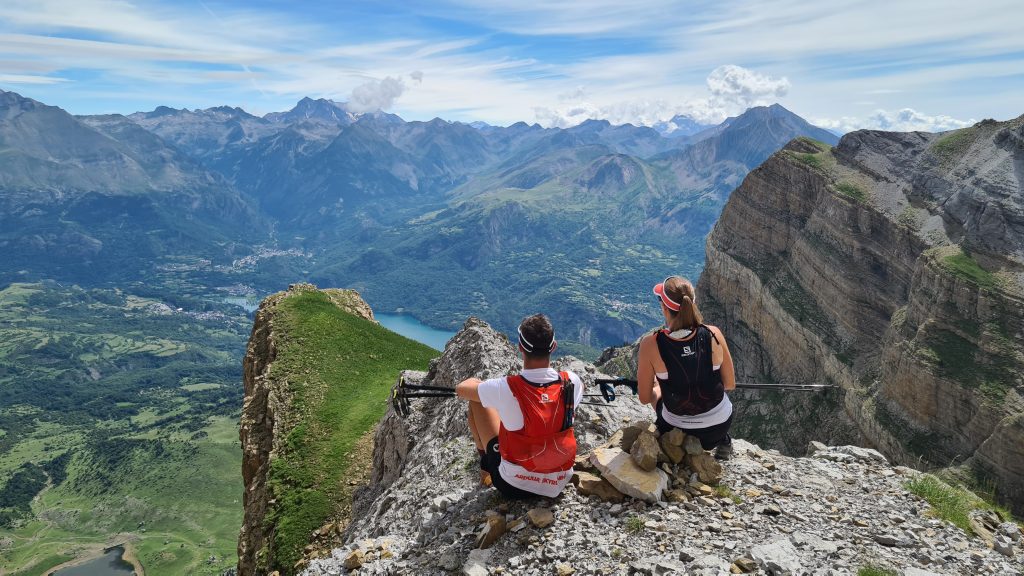 I love this route, and it is also one of the most adventurous ones.
Although we have descided that this route will not be a part of the camp next season, because it is not safe enough to take a big group of people up here. Sorry for that. 🙂
Summing up
For me this camp has been so great! We had so much fun and I enjoyed a lot! Also this camp has been a super great preparation for Trail Valle de Tena and other upcoming races later this season. Also I've been learning so much running with faster runners than me. Especially the technical downhills, keeping up with the pacing of the Pros. 🙂
And about my fitness everything went fine, and I shouldn't have anything to worry about!
I think that we all agreed about that it was a great camp overall, and also some lessons learned for next season when we are arranging a bigger camp for all the runners in Team Arduua.
Will you join us for the next season?
If you are interested in joining us for next season you are super welcome! We are an international team with different levels of runners, and we welcome all runners that are interested in trail-running in mountain environment.
If you are interested in the Camp, click here.
If you are interested in our Online Training, click here.
If you like our mountain style Outfits, click here.
Please don't hesitate to contact me if you have any questions katinka.nyberg@arduua.com.
Great welcome to our team!
/Katinka Nyberg, Arduua Founder
Like and share this blog post